MAXIMUM VELOCITY!
®

Pine Block
Standard Slots & Weight Holes
for Pinewood Derby Cars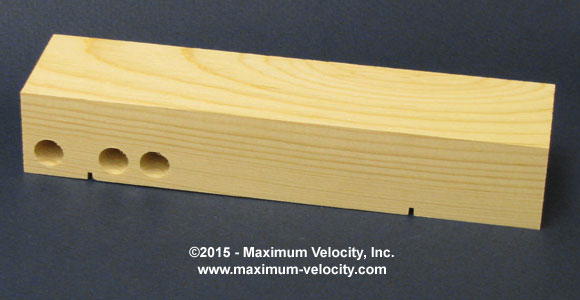 A high quality pine block with weight holes for your shaping pleasure. The slots are accurately cut to simplify alignment.
Specifications
The block measures:

Height: 1-1/4 inches
Width: 1-3/4 inches
Length: 7 inches
Hole Diameter: 13/32 inch
Hole Depth: 1-1/2 inches
The block is equipped with precision-cut axle slots matching the BSA specifications in placement, depth, and width.
Options
The following standard options are available:

Custom Options
If you would like a modification to this block, please Contact Us describing the desired modification in detail. We will reply with a quote for the work. Please note that we do not sell completed cars.




Copyright © 2016 by Maximum Velocity, Inc.
® Maximum Velocity! is a registered trademark of Maximum Velocity, Inc.
Awana is a registered trademark of Awana Clubs International
Pinewood Derby is a registered trademark of Boy Scouts of America
PineCar is a registered trademark of PineCar