Pinewood Derby
Products
---

New Products
For the 2017-18 season.

---

Speed to the Finish!
The most complete source for pinewood derby speed tips and techniques on the market today!

---

Kits & Blocks
Pre-cut pinewood derby car kits, blocks, bulk kits, and more.

---

Wheels & Axles
Speed wheels, speed axles, competition components, and more!

---

Pinewood Derby Weight
Tungsten, lead, and steel weight for your pinewood derby car.

---

Specialty Tools
Unique and innovative tools to get the maximum speed from your car!

---

Speed Supplies
Pinewood derby polishing supplies, lubes, and more!

---

Pinewood Car Plans
Detailed car plans, with templates and step-by-step instructions.

---

Decals, Etc.
Decals, Body Skins, pinstriping, and more!

---

Pinewood Accessories
Accessories, finishing supplies, paint stencils, DerbyDome, and more!

---

Race Management
Pinewood derby software, gauges, and more!

---

Inventory Clearance
Get great deals!
Official Speed Wheels and Axles
for Awana Grand Prix Pinewood Derby Racing
---
---
4023
Official
Speed Wheels (4) &
4025-Speed Axles (4)
for Awana Kits
In Stock
$23.95
---



Reach Maximum Velocity in Your Awana Race!


Are you looking for an edge in your Awana race? Then look no further! These Speed wheels are precision machined by DerbyWorx with a CNC (computerized) lathe to within 0.0005 inches for the ultimate in accuracy and thus, maximum performance. To provide you with an awesome set of wheels, DerbyWorx performs the following operations:

Inner hub face is squared to ensure accurate mounting on the CNC lathe.

The wheel tread is lathed to achieve a perfectly round wheel and a flat tread surface.

The inner edge of the wheel is trued and the molding mark removed.
Benefits
Usage

These Speed Wheels can be used without any additional preparation. Optionally polish the bore with Bore Polish and cone the hub with the Pro-Hub Tool, then lubricate and race!

Technical Information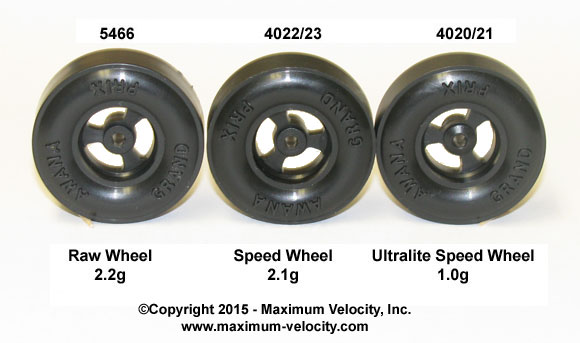 Figure 1
Outside Wheel Comparison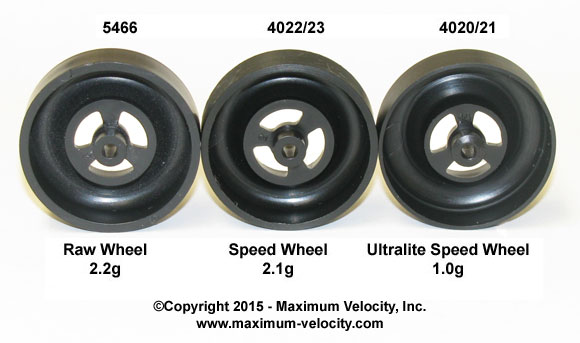 Figure 2
Inside Wheel Comparison



Please note that the inside hub on the Speed Wheels are squared, but not beveled.


Wheel Diameter: 1.175 ± 0.0005 (Raw Wheels: 1.190 to 1.200)


Wheel Bore ID: 0.098


Wheel Weight: 2.1 grams +/- 0.1 per wheel (Raw Wheels: 2.2 grams/wheel)