Pinewood Derby
Products
---

New Products
For the 2017-18 season.

---

Speed to the Finish!
The most complete source for pinewood derby speed tips and techniques on the market today!

---

Kits & Blocks
Pre-cut pinewood derby car kits, blocks, bulk kits, and more.

---

Wheels & Axles
Speed wheels, speed axles, competition components, and more!

---

Pinewood Derby Weight
Tungsten, lead, and steel weight for your pinewood derby car.

---

Specialty Tools
Unique and innovative tools to get the maximum speed from your car!

---

Speed Supplies
Pinewood derby polishing supplies, lubes, and more!

---

Pinewood Car Plans
Detailed car plans, with templates and step-by-step instructions.

---

Decals, Etc.
Decals, Body Skins, pinstriping, and more!

---

Pinewood Accessories
Accessories, finishing supplies, paint stencils, DerbyDome, and more!

---

Race Management
Pinewood derby software, gauges, and more!

---

Inventory Clearance
Get great deals!
Dominator
Pinewood Derby Car Kit
---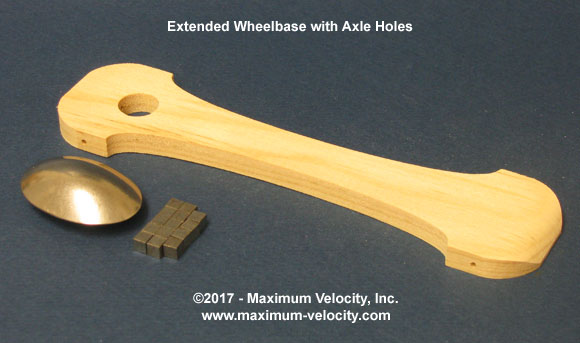 5628 Bottom View
---
5668
Dominator Kit
Extended Axle Holes
In Stock
$37.45
With Tungsten Weight

---

The Dominator is very low, sleek, fast, and aggressively weighted. With the Tungsten Canopy, the bulk of the weight is focused in one area, minimizing the rotational inertia of the car.

The Dominator Kit includes a pre-cut and drilled pine block, 3.5 ounce tungsten canopy, tungsten trim weight, and instructions. Weight pockets are located under the car for fine tuning. Wheels and axles are not included, so use the wheels and axles supplied by your club or order them separately.

The Dominator is equipped with precision-drilled axle holes located at an extended position. The holes are drilled with a #44 bit (fits BSA axles). One front axle hole is slightly raised so that the car will ride on three wheels (best performance).

The following standard options are available:

9000 - Drilled axle holes, 4 wheels on the ground - add $1.00.

9002 - Drilled axle holes for Awana axles (3/32" bit) - add $1.00.