Pinewood Derby
Products
---

New Products
For the 2017-18 season.

---

Speed to the Finish!
The most complete source for pinewood derby speed tips and techniques on the market today!

---

Kits & Blocks
Pre-cut pinewood derby car kits, blocks, bulk kits, and more.

---

Wheels & Axles
Speed wheels, speed axles, competition components, and more!

---

Pinewood Derby Weight
Tungsten, lead, and steel weight for your pinewood derby car.

---

Specialty Tools
Unique and innovative tools to get the maximum speed from your car!

---

Speed Supplies
Pinewood derby polishing supplies, lubes, and more!

---

Pinewood Car Plans
Detailed car plans, with templates and step-by-step instructions.

---

Decals, Etc.
Decals, Body Skins, pinstriping, and more!

---

Pinewood Accessories
Accessories, finishing supplies, paint stencils, DerbyDome, and more!

---

Race Management
Pinewood derby software, gauges, and more!

---

Inventory Clearance
Get great deals!
Pro-Bore Wax
for Pinewood Derby Cars
---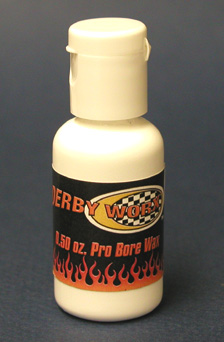 ---
5108
Pro-Bore Wax
1/4 Ounce
In Stock
$5.95

From Randy:
"In our experiments, the use of Wheel Bore Polish followed by Pro-Bore Wax improved wheel spin times for both Max-V-Lube and Krytox 100 lubes."
---



Wax the Wheel Bores to Improve performance!


Tests show that waxing the bore of your wheels will improve pinewood derby car performance when using Max-V-Lube Graphite or when using Krytox 100. Using Pro-Bore Wax will reduce the coefficient of friction, allowing the wheels to spin faster and more freely. This equates to improved performance on the track.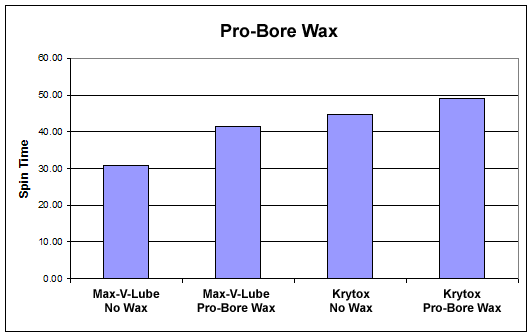 Improvement from Pro-Bore Wax
(Longer spin time equates to faster performance)
Pro-Bore Wax Instructions Pro-Bore Wax works best after the wheel bores have been polished with Bore Polish. Waxing the bore is the last step in wheel preparation before lubricating the wheels.


Apply a small dab of Pro-Bore Wax to a piece of the narrow pipe cleaner.

Slide the pipe cleaner into a wheel bore and rotate the pipe cleaner so that the bore of the wheel is completely coated with wax.

Remove the pipe cleaner and set the wheel aside.

In the same way, apply wax to the other three wheels.

After thirty minutes, insert a piece of the wide pipe cleaner into the bore of a wheel.

Move the pipe cleaner back and forth to buff the wax.

Repeat for the other three wheels.

Buff any wax on the hubs as needed with a soft cloth.

Lubricate the wheels as per the manufacturers instructions.