Pinewood Derby
Products
---

New Products
For the 2017-18 season.

---

Speed to the Finish!
The most complete source for pinewood derby speed tips and techniques on the market today!

---

Kits & Blocks
Pre-cut pinewood derby car kits, blocks, bulk kits, and more.

---

Wheels & Axles
Speed wheels, speed axles, competition components, and more!

---

Pinewood Derby Weight
Tungsten, lead, and steel weight for your pinewood derby car.

---

Specialty Tools
Unique and innovative tools to get the maximum speed from your car!

---

Speed Supplies
Pinewood derby polishing supplies, lubes, and more!

---

Pinewood Car Plans
Detailed car plans, with templates and step-by-step instructions.

---

Decals, Etc.
Decals, Body Skins, pinstriping, and more!

---

Pinewood Accessories
Accessories, finishing supplies, paint stencils, DerbyDome, and more!

---

Race Management
Pinewood derby software, gauges, and more!

---

Inventory Clearance
Get great deals!
9/32 Inch Tungsten Rod
3.5 Ounces
Pinewood Derby Weight
---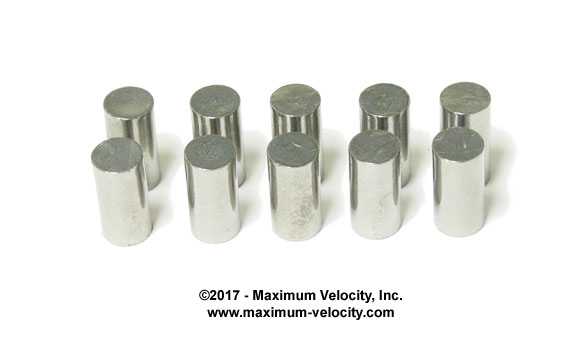 ---
-- New --
5067
9/32"
Tungsten Rod
3.5 ounces
In Stock
$17.95


From Randy:
Tungsten Rods combine the simplicity of cylindrical weight with the low height benefit of cube weight. These tungsten rods allow thin cars to be built without creating underbody pockets."


Need a drill bit for the Tungsten Rod?
Click Here and Order Part 5004
---
Make Your COG More Aggressive
Three Tungsten Rods: 1.05 Ounces - Six 1/4 Cubes: 1.03 Ounces
Product Content

Ten, 9/32" Tungsten Rods weighing approximately 0.35 ounces each, for a total weight of approximately 3.5 ounces.

Product Specifications

Diameter - 9/32 inch

Length - 0.56 inch

What is Tungsten?

Tungsten is a metal with one of the highest densities. Tungsten is 1.7 times more dense than lead, 2.4 times denser than steel, and 2.7 times denser than zinc. race car.

Sample Car With 3 Rods in the Back Three Holes, and 1 Rod in the Front Hole.
Balance Point: 9/16 inch
Car Thickness: 3/8 inch at back
How to Use this Product

Tungsten Rods can be easily used for pinewood derby car weighting, and can result in a more aggressive COG than can be acheived with 1/4 inch tungsten cubes.

Drill 19/64 inch diameter holes into the side of the block (a drill press is recommended). Then cut out the car. Glue rods in place, fill the holes, then sand and paint. A small hole in the bottom of the car is recommended for final weight adjustment iwth Tungsten Putty.