Editor's Notes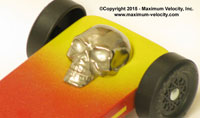 New!
Skull Tungsten Canopy

Check out the 2.9 ounce Skull Tungsten Canopy. It provides a quick way to add weight and decorate your car at the same time. You can find out more about the canopy Here. Get one at a discount in our Product Showcase.



Aero Fenders
New Lower Price

We now are offering Aero Fenders at a lower price so that more people can afford the cool look and performance gain of fenders. Our precision, laser-cut Aero Fenders improve air flow over the wheels, resulting in a (typical) gain of a few milliseconds at the finish line. Both front and rear fenders are available (in pine or balsa), and are typically used together. You can find the Aero Fenders Here



Can We Help?

If we can help you in any way with your pinewood derby project, or if you have any feedback regarding this newsletter, please contact us at: info@maximum-velocity.com

MV Basic & Wedge Car Kits

If you are planning a race and are not required to use a specific kit type, our MV Basic or Wedge Car Kit are just what you need. These attractively priced kits are equipped with:

Quality Block - Unlike the blocks provided by some organizations, our blocks are soft, northwestern pine blocks, cut precisely to 7 inches long, 1-3/4 inches wide, and 1-1/4 inches tall. These dimensions, as well as the axle slots accurately duplicate the dimensions of standard pinewood derby blocks from BSA and PineCar.

Simple Axle Preparation - Don't worry about filing off flaws, or losing hub caps. Our Speed Axles have no burrs or crimp marks, and install without hub caps. With or without polishing, they are ready to go. We supply five, so you have a spare.

Quality Wheels - Forget cheap, out of round wheels. Our MV wheels are top-quality wheels. You will not be disappointed with the quality of these wheels.
So, if your organization does not mandate a particular kit type, consider our MV Basic Car Kits or MV Wedge Car Kits