Editor's Notes
MV Basic & Wedge Car Kits

If you are planning a race and are not required to use a specific kit type, our MV Basic or Wedge Car Kit are just what you need. These attractively priced kits are equipped with:

Quality Block - Unlike the blocks provided by some organizations, our blocks are soft, northwestern pine blocks, cut precisely to 7 inches long, 1-3/4 inches wide, and 1-1/4 inches tall. These dimensions, as well as the axle slots accurately duplicate the dimensions of standard pinewood derby blocks from BSA and PineCar.

Simple Axle Preparation - Don't worry about filing off flaws, or losing hub caps. Our Speed Axles have no burrs or crimp marks, and install without hub caps. With or without polishing, they are ready to go. We supply five, so you have a spare.

Quality Wheels - Forget cheap, out of round wheels. Our MV wheels are top-quality wheels. You will not be disappointed with the quality of these wheels.
So, if your organization does not mandate a particular kit type, consider our MV Basic Car Kits or MV Wedge Car Kits.



Inventory Clearance Sale

We are clearing inventory on several items including car kits, car plan booklets, and standard drilled pine blocks. Click Here to find our clearance items. Don't miss out on the great prices.



Can We Help?

If we can help you in any way with your pinewood derby project, or if you have any feedback regarding this newsletter, please contact us at: info@maximum-velocity.com

Pinewood Derby Grand Stand
The ONLY Adjustable Multi-Car Display System!
(Patent Pending)
Proudly display up to five cars plus trophies

Stand upright or wall mount

Choose from attractive pre-finished model or raw wood unfinished kit; the perfect group project

Removable knuckle clip cradles car without fasteners or pressure on the wheels

Prevents car damage from rolling off dresser, table, desk, shelf or other surface

Compact, space-saving design - only 15 high x 8 wide x 3-1/2 inches deep; makes an excellent organizer

Professional, quality crafted from solid poplar and made in USA

Or create custom displays with individual knuckle clips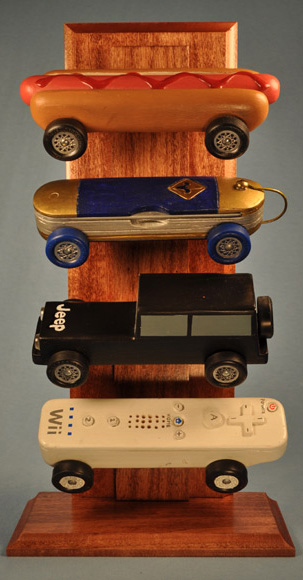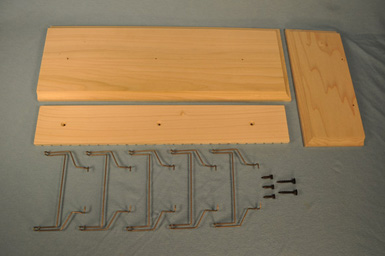 Available from: www.derbygurus.com

Special Offer


Save 10% off the Prefinished Grand Stand at www.derbygurus.com with coupon code "pwdtimes". Good through 2/27/13.

Editor's Note:
This is a paid advertisement, however, I do own one of these stands, and am very impressed with the quality of the product. I believe you will be pleased with the workmanship and functionality of the Pinewood Derby Grand Stand.