Editor's Notes



Reader Feedback

From Eric Steindorf:
"I enjoyed the article on the propeller car. Years ago I made a "hybrid" technology outlaw car shaped like a mobile home. It was big and kludgy. But it had a secret that rendered it nearly unbeatable - a rubber band to slingshot it out of the gate. I routered a 1/4 inch channel down the belly of the car and drove a nail in the slot near the rear axle. I clipped off the nail head so the nail was essentially a peg. At the race I'd string a stout rubber band (like the ones from a bunch of broccoli or lobster claws) over the nail and out the front of the car and over the starting peg. This pressed the car VERY tightly against the starting post. As the post was lowered the car was fired down the track, leaving the rubber band at the gate. This car was well on its way down the track before "legal" cars had moved a foot. Now, "Bubba's Slingshot Doublewide" was otherwise slow as I did very little to polish the axles. So, the other cars made ground on it in that final part of the track, but the Doublewide always ended up first."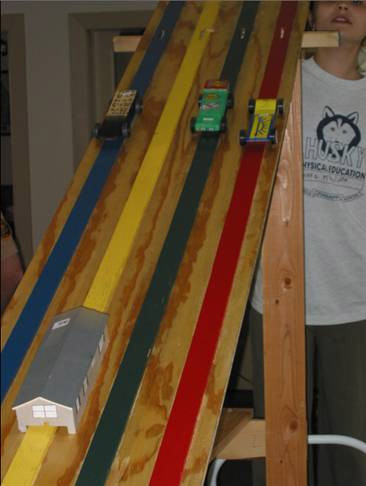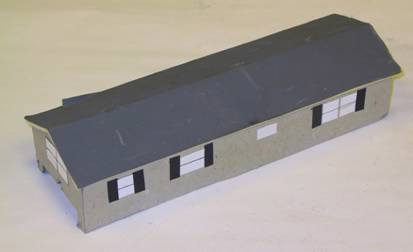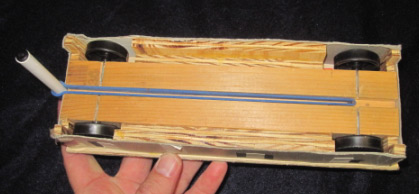 MV Basic & Wedge Car Kits

If you are planning a race and are not required to use a specific kit type, our MV Basic or Wedge Car Kit are just what you need. These attractively priced kits are equipped with:

Quality Block - Unlike the blocks provided by some organizations, our blocks are soft, northwestern pine blocks, cut precisely to 7 inches long, 1-3/4 inches wide, and 1-1/4 inches tall. These dimensions, as well as the axle slots accurately duplicate the dimensions of standard pinewood derby blocks from BSA and PineCar.

Simple Axle Preparation - Don't worry about filing off flaws, or losing hub caps. Our Speed Axles have no burrs or crimp marks, and install without hub caps. With or without polishing, they are ready to go. We supply five, so you have a spare.

Quality Wheels - Forget cheap, out of round wheels. Our MV wheels are top-quality wheels. You will not be disappointed with the quality of these wheels.
So, if your organization does not mandate a particular kit type, consider our MV Basic Car Kits or MV Wedge Car Kits.



Inventory Clearance Sale

We are clearing inventory on several items including car kits, car plan booklets, and standard drilled pine blocks. Click Here to find our clearance items. Don't miss out on the great prices.



Can We Help?

If we can help you in any way with your pinewood derby project, or if you have any feedback regarding this newsletter, please contact us at: info@maximum-velocity.com