Editor's Notes



Zucchini Race

Here is a write up from one of our customers about a zucchini race at their local fair. Our MV Wheels/Axles were used for many of the cars in the race. If you know of any other unusual pinewood derby-like events, please let me know.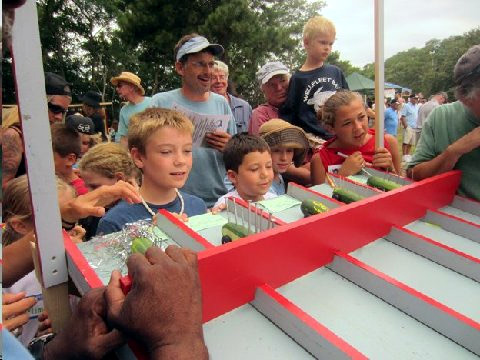 Truro, MA - You've heard of the Indy 500 over Memorial Day, but what about Truro's Zucchini 500 over Labor Day? Billed as The Greatest Spectacle in Vegetable Racing, the event took place on Sunday, September 2 at Sustainable CAPE's Truro Agricultural Fair in Truro Center.

Participants were encouraged to harvest (or buy locally) their own zucchinis and create their own race cars. There were ribbons awarded for the largest, smallest and best decorated and embellished zucchinis.

A limited number of axles, wheels & zucchinis were available for children who wished to create race cars on-site on a first-come, first-served basis. There were several groupings of racers: ages 5-7, 8-13, 14-18 and adult. Adults had to bring their own completed zucchini race cars as the supplies were donated for children.

"The Zucchini 500 helps make vegetables fun," explains Sustainable Cape's founder Francie Randolph. "Our primary aim is to link local food to physical health and sustainable environmental practices. The Truro Ag Fair, Children's Community Gardens and 4-H programs, our Farm-to-School initiatives and our new Zucchini 500 all work together to make fruits and vegetables the center of wonderful memories and experiences for kids and adults. Fruits and veggies then become something we all want more of."

In addition to the Zucchini 500, the Truro Ag Fair - whose tag line is "Till, Baby, Till!" - featured Turnip Bowling, Harvest Contests, Barnyard Beauty Contests for farm animals (with a Fava Bean voting booth), Pie-baking Contests and Pie-Eating Contests. A central Harvest Market offered local delicacies ranging from heirloom tomatoes to honey, fresh baked goods to oysters. Local restaurants grilled up regional fare. More can be found at TruroAgFair.com.

One Z-500 entry per participant only, personally delivered and registered by entrant. A zucchini must be the main part of the entry and may be decorated, carved, painted or embellished. Each entry must be self-propelled - no motors or additional assistance. The overall width including wheels should be no wider than 7 inches. Each entry (zucchini and wheels) will be weighed upon entry and raced with comparable entries of similar weight in their class.

The all new 25 foot racetrack was created and staffed with the assistance of MidCape Lumber, Bob Spitzler, Barnstable County 4-H, and Young & Fancy Signs. A former USDA official consulted on raceway design.

Loads of people have extra zucchinis at this time of year - why not race them and then make zucchini bread?!

MV Basic & Wedge Car Kits

If you are planning a race and are not required to use a specific kit type, our MV Basic or Wedge Car Kit are just what you need. These attractively priced kits are equipped with:

Quality Block - Unlike the blocks provided by some organizations, our blocks are soft, northwestern pine blocks, cut precisely to 7 inches long, 1-3/4 inches wide, and 1-1/4 inches tall. These dimensions, as well as the axle slots accurately duplicate the dimensions of standard pinewood derby blocks from BSA and PineCar.

Simple Axle Preparation - Don't worry about filing off flaws, or losing hub caps. Our Speed Axles have no burrs or crimp marks, and install without hub caps. With or without polishing, they are ready to go. We supply five, so you have a spare.

Quality Wheels - Forget cheap, out of round wheels. Our MV wheels are top-quality wheels. You will not be disappointed with the quality of these wheels.
So, if your organization does not mandate a particular kit type, consider our MV Basic Car Kits or MV Wedge Car Kits



Inventory Clearance Sale

We are clearing inventory on several items including car kits, car plan booklets, and pine blocks (plain, standard, and extended drilled). Click Here to find our clearance items. Don't miss out on the great prices.



Can We Help?

If we can help you in any way with your pinewood derby project, or if you have any feedback regarding this newsletter, please contact us at: info@maximum-velocity.com