Editor's Notes



Reader Feedback

We received quite a bit of feedback on the article entitled "Do's and Don'ts for Race Leaders" in Volume 11, Issue 1. Here are a few:

"I read your article on the complaints you received from some parents stating that they bought wheels from your web site, and that when they went to a district meet, they were disqualified. As a member of our District Pinewood Derby race committee, I felt compelled to write to you. I am like most of your readers, we get a list of rules that are at best, very vague. At a District Derby a couple of years ago, I heard several parents complain that the rules were too vague, open to interpretation, and that there was no set guidelines. We formed a team of what we called Pinewood Derby Experts. We sat down and hashed out the rules; quite simply, we made a statement that the wheels must say BSA Pinewood Derby on them, they are not to be narrowed and can be lathed as long as there was evidence that the little tire tread marks on the side where still visible. We also stated that they can be colored, as long as BSA Pinewood Derby was on the sidewall. We also condensed the rules to a simple two page attachment that was sent out three months before the derby so that any rule in question could be discussed at a District Roundtable with all the Cubmasters involved. A truly well run plan can and will always have something that can be misread or misunderstood. At last year's District Derby, we had no disqualified cars, all wheels were BSA, and the race rules were well liked. We are planning on using these rules again for this year's Derby. I know this will not help other Districts with their rules, but our District has had and hopefully, will continue with its success. As always, thanks for the service you provide. I always tell my Cub Scout Packs to go to your web site for useful tips and car ideas; you make my job easier."
Name withheld upon request

"In regards to issues with the race rules, I think this is a case of someone being overzealous for some cars and not others. Common sense would say that since they had so many cars being disqualified someone on the race committee should have stepped forward and either questioned the officials, asked for an Outlaw race for those that did not pass inspection, or at the very least re-inspect those cars in question -- remembering that these racers traveled in hopes of competing.

We have for several years sent with our Pack the rules that are prepared by the District committee, and we run our races with the same rules in hopes to eliminate the disqualification of any cars at the district level. As a long time Scout Leader the rules can be rigorous, and are always changing slightly due to fairness and vendors like Maximum Velocity providing parts on the cutting edge; but if you explain and go through the rules and expectations with your scouts, adults and other leaders, they are easily followed. As leaders we need to be advocates for fairness and this can be as simple as adding some sort of Outlaw race to allow for these situations.

In our district race and our Pack race we use non-scout adults at the registration tables to help ward off any competition bias. We teach them the rules and what and how to look for violations. I firmly believe that those bringing cars need to bring extra of everything so they can, if allowed, be able to switch out parts to pass inspection. In the case of weight just the air temperature and the difference in a scale brand can provide for overweight issues.

In our races we give every racer as much leeway and help in the pit area as possible to let them race; we supply some extra wheels, axles, weight options and tools for the scouts to adjust their cars to make inspection."
Keith Larson
Cub Master Pack 53 Bagley, Minnesota
Race Director/District Race Official

Two-Wheeled Car Results

In Volume 10, Issue 14, the article "Two-Wheeled Cars Revisited" mentioned that the car would be raced in April and that I would report back to you in the fall.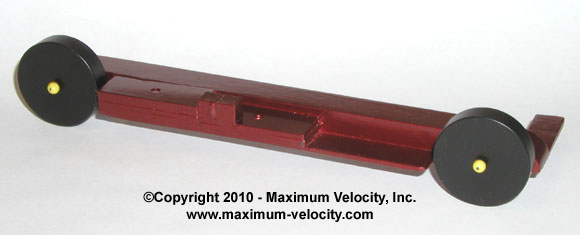 The car ran very smoothly, easily beating all but two cars (which were equipped with needle axle outlaw wheels, one of which I built). The car also received the positive crowd response that I was hoping for.

But in the third heat, the front "spoiler" broke off in the stop section. I didn't notice the missing part until I was staging the car for the final race. Our rules state that the only broken car part that can be replaced is a wheel, so nothing could be done. Since the spoiler was needed to trip the finish line, the car got a DNF (did not finish) for the final heat and ended up taking fourth place. I could have argued that the car did finish; the problem was that the sensor didn't detect it. But since I was the race leader, I didn't think that was appropriate. Obviously, the spoiler needs to be mechanically reinforced, as opposed to just attached with glue.



Inventory Clearance Sale

We currently have all of our printed Car Plans booklets, several kits, and other items on sale. Click Here to find our clearance items. Don't miss out on the great prices.



Can We Help?

If we can help you in any way with your pinewood derby project, or if you have any feedback regarding this newsletter, please contact us at: info@maximum-velocity.com