To start with, at forty-nine, I'm a fairly old Dad to have three sons aged eight, seven, and five. My two oldest sons are Cub Scouts and my youngest son will start scouting in the fall. My middle son won our overall Pinewood Derby championship last year. I compete in the open class of our Pinewood Derby.
I was a Cub Scout way back in the 1960's and early 1970's. The Pinewood Derby was a big deal back then too! When I was a Bear Cub, I was entered in our Pinewood Derby. It was Cub Scout Pack 27 in Fort Worth, Texas. I can't recall what the track was constructed of, but it was the coolest thing that I had ever seen! They had created awards out of coffee can lids, leather, and gold glitter. Those simple awards looked like Olympic Gold Medals to me!
I think my Mom and Dad did more than their "fair share" of work on my car. My Dad could build anything out of metal or wood and he was very competitive. So was my Mom as my car was awarded, "Best Paint Job". I still have that race car and you can tell by looking at it that no little kid built this by himself.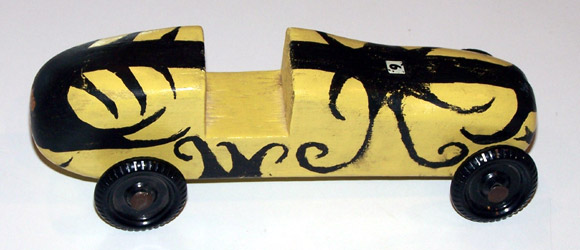 We had our pre-race ceremonies and the excitement built up even more for me. I was very excited about getting a chance to race my car. My car looked like it would be fast and I was very proud of it. Both my parents kept telling me over and over again to be very careful with my car and to not drop it. As with any kid, I could not put my race car down. I carried it with me everywhere.
Well, we started the race and my Pinewood Derby car was a speed demon! I don't remember how many boys were in our Pack, but I was beating everyone from the Webelos to the Bobcats. After every heat that my car was in, I snatched it up and pranced around with it. I remember looking at my Dad a couple of times and he was smiling and laughing along with me. Those were very special moments for me as my Dad was "old school" and he didn't let on too often that he was pleased. I can still hear my Mom and Dad saying, "Be careful with your car and don't drop it." Those same words haunt me to this very day.
Our Pinewood Derby was finally winding down and I was still undefeated. I had just finished grabbing my car off the track after another victory when disaster struck! I can still recall that exact moment like it happened yesterday. I still see it in slow motion. I was holding my race car when suddenly, I wasn't holding it anymore! It seems like it took two minutes for my car to hit the floor. As it smashed down, the two front wheels shot outwards away for my car. The wheels and nails went rolling and spinning away.
I remember the room went quiet and I looked towards my Dad. That in itself was a memorable moment. The expression on his face was a mixture of sadness, anger, and defiance. He came over and gathered the wheels and nails. I was upset and he told me that it would be all right; he could fix it. I was in shock as I thought the car was ruined!
Pinewood Derby cars were way different than they are these days. The axles were mounted into glued-on wooden struts. The front axle strut on my car had actually shattered and was gone! So my Dad laid the car on it's side and with the palm of his hand, he actually pushed the nail axles right into the side of the wooden car body!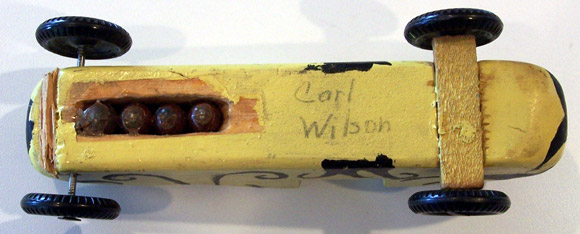 The race continued. Two other cars had only one loss each and they ran their race. Now, it was just me and my repaired little racer versus another car we had already beaten once. Well, not all stories have a happy ending, but this one did. My little broken car beat the other Scout just barely and we won the final race! That is still one of my proudest days as a Cub Scout.
If there is a moral to this story, it's leave your race car alone and listen to your Mom and Dad. Sometimes, they are actually right about stuff!
Carl "Crash" Wilson
From Pinewood Derby Times Volume 8, Issue 11
Subscribe to this Free Pinewood Derby E-newsletter
(C)2015, Maximum Velocity, Inc. All rights reserved.
Maximum Velocity Pinewood Derby Car Plans and Supplies