PINEWOOD DERBY CAR SHOWCASE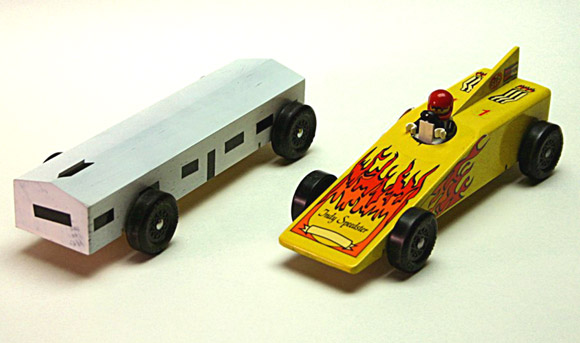 Runaway House & Yellow Fireball – Matt & Will Osbourne
These are my son's cars from their recent pack pinewood derby. On the left is Matt Osbourne's 'Runaway House'. He's a Webelo 1 and this is the fourth car he's raced. He finished first in rank and had the 8th fastest time in the pack (50 cars in competition). On the right is Will Osbourne's 'Yellow Fireball'. He's a Tiger and this is his first official car. He finished first in rank and had the 6th fastest time in the pack. He'll be going on to represent his pack at the district races since he was the fastest Tiger. I've been reading the newsletter for almost two years and picking up tips. Both racers are three wheelers with a good rear center of gravity and the boys spent a lot of time in front of the drill press polishing the axles until they gleamed. I made a test track this year based upon instructions from a prior year's newsletter and we had the cars well aligned before test and tune night.
---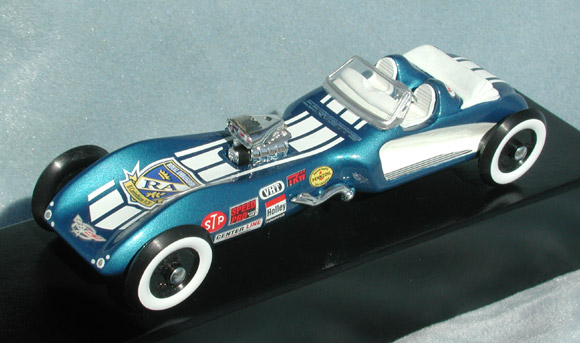 'Vette – Jay & Jay-Jay Bailey
I recently ordered a DerbyDome for my son Jay-Jay's pinewood derby race car. He is with the RA's (which is a church run scouting organization). On March 12, 2005 the RA's held a regional event in Wilson, North Carolina with over 200 participants from all over the eastern part of North Carolina. The car that we built together won a 1st Place ribbon for most unique design and a trophy for best in show. Jay-Jay turned 7 years old that day, and needless to say, he was elated to win a trophy and a blue ribbon on his birthday! Your DerbyDome will protect and display his winning car for years to come and we thank you for offering such a wonderful product.
---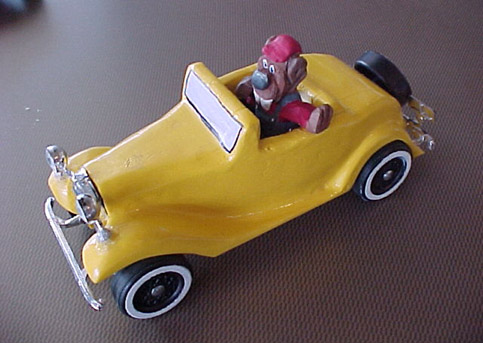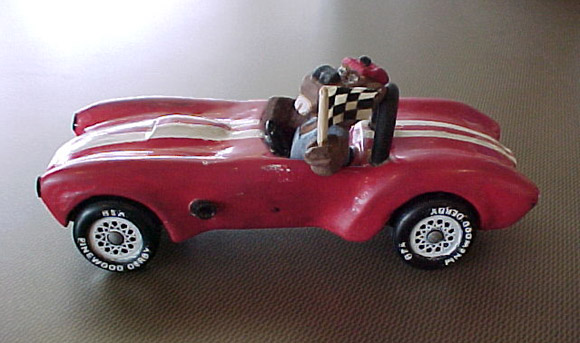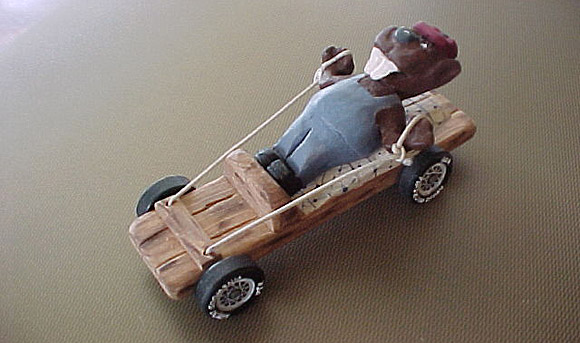 WoodBadge Beaver's '32 Chevy – David Bivins
(I broke my 'one car' rule for this submission, as the three cars make a nice set.) This year's car is 5 ounces of pinewood taken from three car kits and plastic pieces from a 1932 Chevy model. It is driven by a WoodBadge Beaver. It was a little slow, but looked good getting there! Last year's "Beaver's Ford Cobra" and 2003's "Beaver on a Sled" are on display at Birmingham's Scout Shop.
From Pinewood Derby Times Volume 5, Issue 1
Subscribe to this Free Pinewood Derby E-newsletter
(C)2012, Maximum Velocity, Inc. All rights reserved.
Maximum Velocity Pinewood Derby Car Plans and Supplies