Blue Cobra – Randy & Dalton West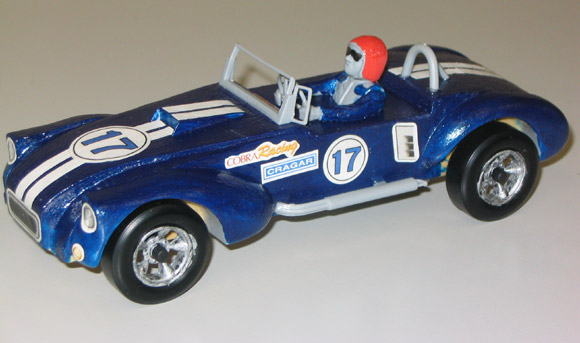 The blue Cobra that my son, Dalton, and I made was from a hobby kit. It was supposed to be easier so he could do most of the work. Wrong! Nothing lined up on the pre-cut wood frame. So it was back to the sandpaper. We had to sand the sides down so the plastic fenders would line up; they were a pain to glue on and to get where they looked right. After that, he did a nice paint job. The car ended up taking 2nd Place.
Heart Attack – Jeff & Mara Lilleskare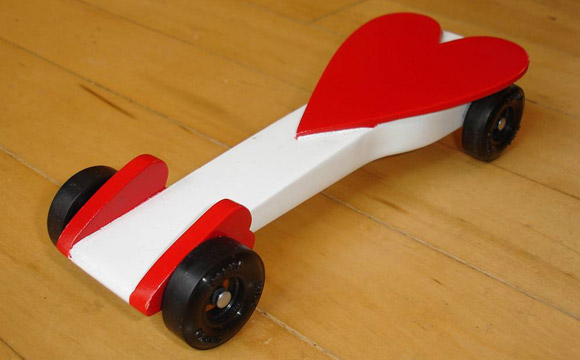 After winning 1st Place for speed last year, my daughter Mara wanted to try to win a style award. She liked the American flag theme of last year's car, but wanted to incorporate hearts this year to make it appear more 'girly'. She sketched out some ideas, and to help her out I bought a bunch of different heart cut-outs from a craft store. She just kept re-arranging them until she came up with a design she liked. When we were part way through with painting, she was so pleased with how it was turning out, that she decided not to add the additional blue heart decals and designs she had originally planned – thus was born the 'Heart-Attack'.
We had a blast building it together, and she loved trying to incorporate the tips and tricks we found on Maximum Velocity – although she was very tired of axle polishing and sanding by the time we were done! She ended up winning 3rd for design, accomplishing her primary goal, and we were extremely surprised to also end up winning 3rd for speed. Overall a great year, and she was extremely proud to have the only car in recent memory to place in both categories.
Snake Trouble – Cory Jackson, Jr.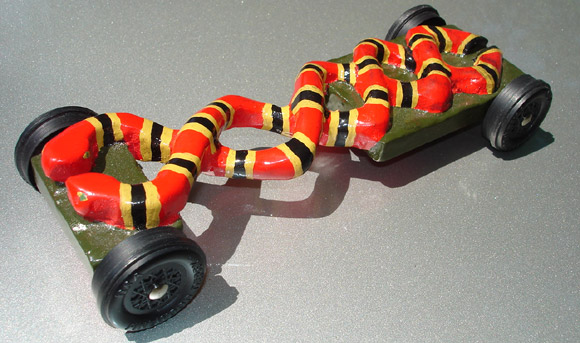 This was a fun car I made for the Dad's Division at the pack meet. I had to use a variety of tools to make it, including a scroll saw, Dremel tool, router (for weights) etc. I used the Pro-Wheel Shaver on the wheels, and tungsten for weighting. No prizes for looks, but I did manage to whip the competition in speed!
From Pinewood Derby Times Volume 6, Issue 4
Subscribe to this Free Pinewood Derby E-newsletter
(C)2013, Maximum Velocity, Inc. All rights reserved.
Maximum Velocity Pinewood Derby Car Plans and Supplies