Batmobile – Dennis Wang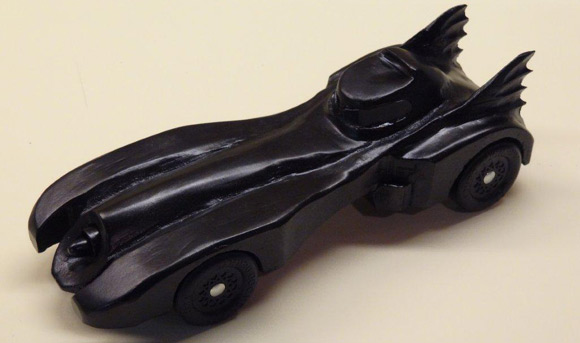 This year my Wolf scout wanted to build the Batmobile. We did some research for some images, and he ended up picking the design from the first two motion pictures. We used Microsoft Visio to create templates from the top and side views. We glued our templates to do the major shaping. The rest of the shaping was done with a Dremel tool and Rotozip sander. We took clear plastic, spray painted one side with black spray paint and then inlaid it to the cockpit which was carved out with the Dremel. We took first in design, and we're heading to District in March.
Lego Indy – Dennis Wang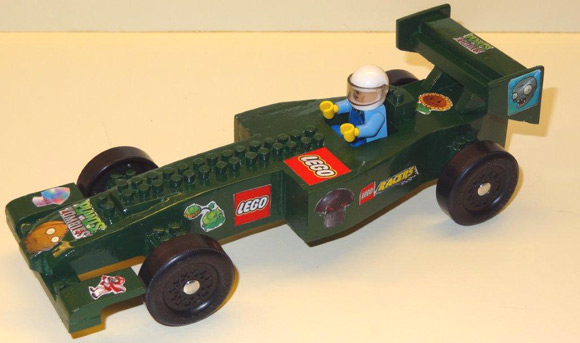 Our pack runs a sibling race and my soon to be Tiger scout wanted to build a Lego race car. He eventually settled on an Indy car. We used Microsoft Visio to create the top and side view templates and a scroll saw to shape our standard BSA block. Visio helped us keep the blocks to scale. We used 1/8 inch dowels as the peg portion of the Legos. When the car was done, it didn't look complete. So we decided to put sponsor stickers. Since Mason is really into "Plants vs Zombies", we used images we found on-line to decorate the car. The car took first in design in the parent/sibling race.
Viper – Bruce Edney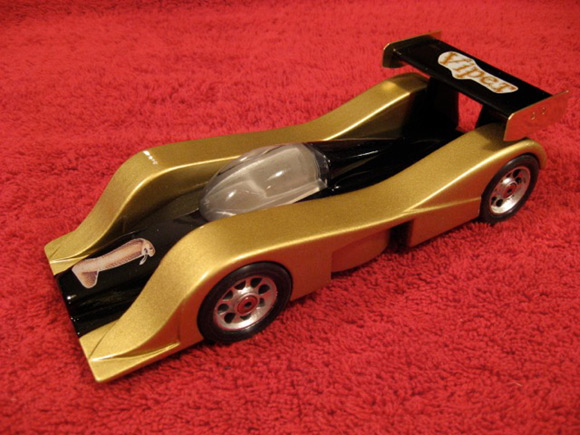 The Viper design is based on the Lola B08/86 Mazda MZR-R coupe which raced in the American Le Mans Series LMP2 class at Petit Le Mans in October 2009. This car raced in the 2012 Mid-America Pinewood Derby, and the PWDR and WIRL racing leagues.
Sky News – Brian Masek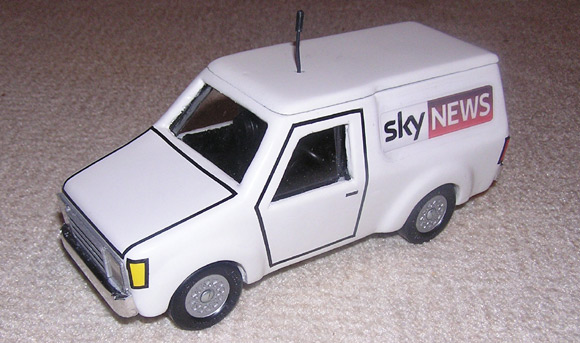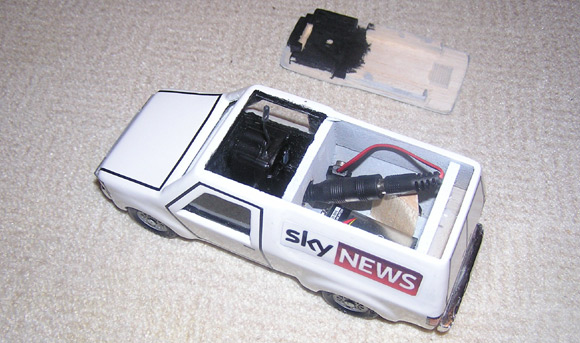 The Sky News Van was my personal project for last year so that I would have something to work on myself and meddle less with the boy's cars. I saw a YouTube video of a video car that someone else had made, but they just put a camera on a block and didn't do anything special with the design. So I decided to try to make a remote TV truck with a working video camera. The truck is not legal for races (it's slightly too large, and with the camera and 9V battery is very overweight), but it is actually designed to be slow anyway. I bent the axles so that all other cars would pass it and would be captured on the video. At our derby race last year we set it facing the finish line of the race track which allowed the adults to watch the races on a large TV. Then at the end of the race we ran it down the track.
From Pinewood Derby Times Volume 12, Issue 13
Subscribe to this Free Pinewood Derby E-newsletter
(C)2017, Maximum Velocity, Inc. All rights reserved.
Maximum Velocity Pinewood Derby Car Plans and Supplies