The Outlaw – Tim Schneider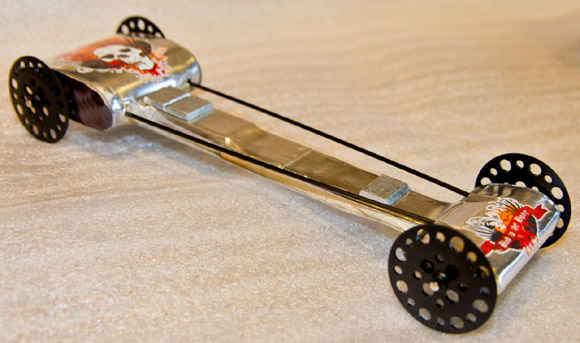 My goal for this car was to make an extended wheelbase car, with front and rear airfoil shapes (teardrops). I found the wood to be too thin in the middle, so two carbon fiber rods were used to help reduce body flex. The car was wrapped with 3M Damping Tape. This gave the body a brushed metallic appearance, and additional strength/vibration damping ability.
Outlaw Orange – Chris Kostik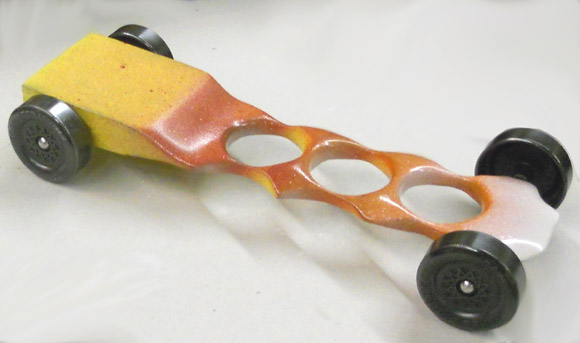 I raced this outlaw car to 1st place in the adult unlimited division! The competition continues to get faster and faster in this division every year. I have already begun work on prototypes for next year's race!
'32 Deuce Coupe – Michael Pecora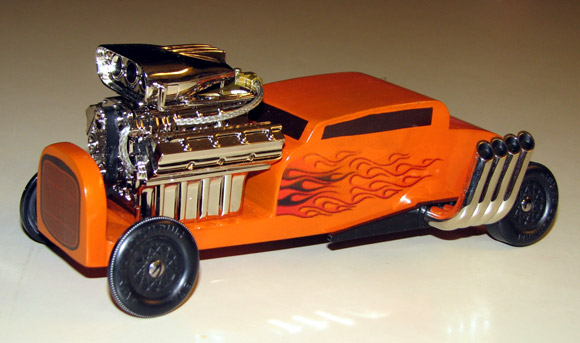 My '32 Deuce Coupe was built for my pack's open race. It was built for show, not speed.
From Pinewood Derby Times Volume 11, Issue 14
Subscribe to this Free Pinewood Derby E-newsletter
(C)2017, Maximum Velocity, Inc. All rights reserved.
Maximum Velocity Pinewood Derby Car Plans and Supplies