Funny Car & Streamliner – Rick Voegelin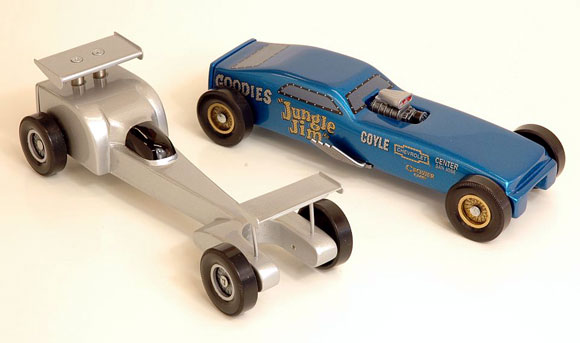 These two cars were my entries in the Hell's Belles Car Club Charity Pinewood Derby. The Belles is an all-female car club in San Francisco, and this year's annual derby raised more than $1,500 to benefit the Bay Area Women's and Children's Center.
At age 60, I decided to race in my first Pinewood Derby. The Belles sell the basic car kits to raise money, and require that entrants use the supplied wood blocks, wheels, and nails. I thought I would put together my cars on a Saturday afternoon, but it quickly turned into a week-long project.
I built a Funny Car inspired by "Jungle Jim" Liberman, the Bay Area's legendary Funny Car driver; and I built a Streamliner inspired by equal parts Mercedes W196 and Don Garlits' dragster. I used a full complement of Maximum Velocity parts and information. The bodies were painted with Tamiya lacquer and clear coated with Duplicolor. A plastic model kit donated a supercharger and injector for the Funny Car.
The Funny Car was the overall winner, and the Streamliner was awarded Best in Show. The Streamliner was a little quicker, but when my cars raced each other in the semi-final round, the Streamline scrubbed off just a bit of speed on the bumps.
It was a thoroughly enjoyable project, to turn a block of wood into a race car, and I'm already planning my entries for next year's Hell's Belles Pinewood Derby race.
Vaccinator – Stephen Davis


This is the prototype of our Vaccinator kit, which was designed by my son, Stephen, and raced in the Outlaw division in our local race held in April of this year. The car ran on X-Lite Needle Axle Outlaw Wheels (white version that were dyed yellow – white wheels are a special order item). The tungsten canopy was painted black, and yellow pinstriping was used for the accent stripe.
Thanks in part to the X-Lite Needle Axle Outlaw Wheels, the Vaccinator easily won every heat to take first place.
From Pinewood Derby Times Volume 10, Issue 6
Subscribe to this Free Pinewood Derby E-newsletter
(C)2016, Maximum Velocity, Inc. All rights reserved.