Bi-Plane – Doug Kile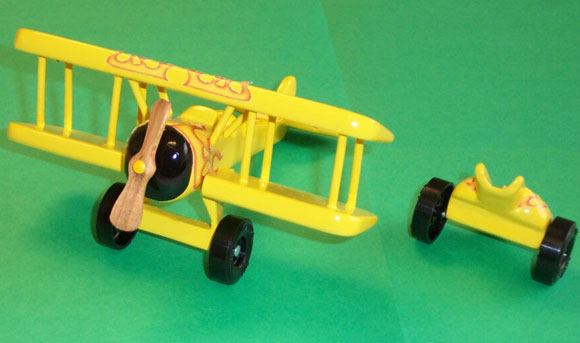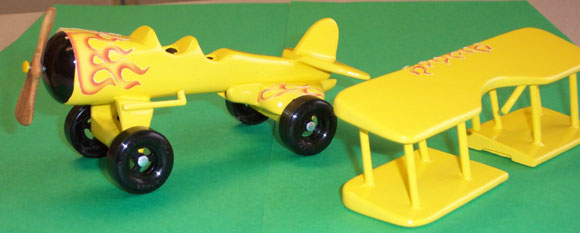 Last year I sent in a picture a picture of my John Deere Tractor. This Bi-Plane is what I made for this year. It legal to run with the wings removed.
Model T – Gary Trousdale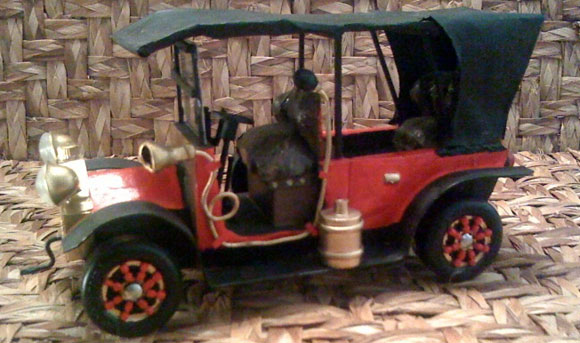 My son's pack has a siblings and parents category, so I decided to enter. As far as what design I would use, I had about 100 ideas flying around in my head. The Model T came about mostly because I knew no one else would do it, and I'm fairly sure I've never seen one before.
I downloaded a lot of pictures of old Model T cars and trucks and settled on the touring car design. The body is still the original wood block from the BSA kit, just cut up and re-arranged a bit. The running boards are brass strips from a hobby store, likewise the grill, mounted in foam core. The headlights, taillights and compression tank were from a jewelry and craft store. The brass front bumper had to come off due to weight. The canopy is paper, measured, cut, folded and painted over a wooden frame (again, the metal was too heavy). The seats are foam rubber with lacquered and painted tissue paper seat covers. The gear shift levers, horn, and windshield were fabricated pretty much from wire, Sculpey, sheet styrene and paint.
The car ran pretty slow, despite my grinding and polishing the axles. I don't think it was a question of air resistance as much as the wheels themselves were out of balance — I put hub spokes made of painted toothpicks on them. Oh well, it looked really cool.
Valentine C-A-R – Galen Jordan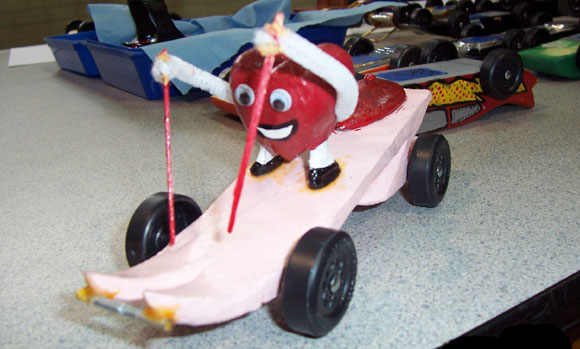 This car was made as a Valentine C-A-R (not card) for my wife since our race was on February 14. we originally did not intend to race it. but, we caved to peer pressure and let my daughter race it in the 11 and under open class without any preparation other than graphite. It took second place. It was a great day of racing for the whole family.
From Pinewood Derby Times Volume 9, Issue 3
Subscribe to this Free Pinewood Derby E-newsletter
C)2015, Maximum Velocity, Inc. All rights reserved.