The Hive – Scott Morrill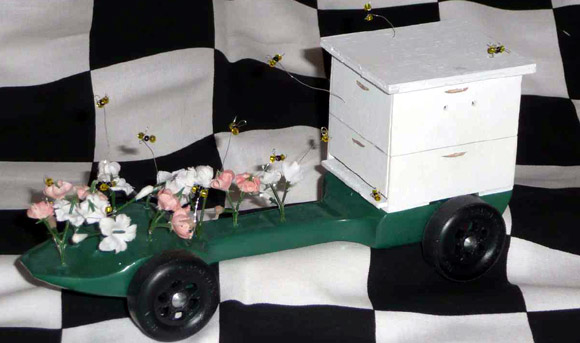 We held a derby as the main event at our family reunion this past summer. My grandfather was a beekeeper, so in his honor I created "The Hive". The hive itself is an empty shell of balsa which also hides the tungsten weight. The bees were individually created with beads and wire to form the wings and stingers.
Wayne – Bob Kirmis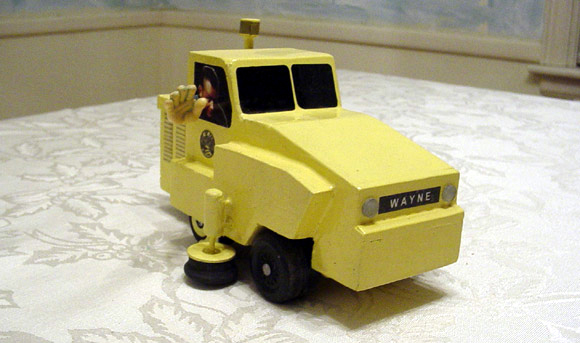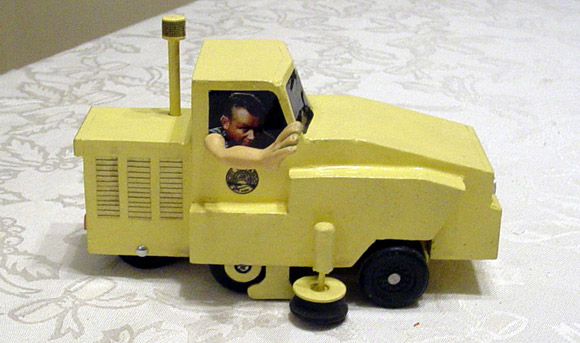 I am not a scout but rather a mid-forties guy who is part of an annual pinewood derby race at my place of employment. This "car" is a City of Fargo, North Dakota "Wayne" street sweeper. As you can probably guess, I am from Fargo. The guy driving the street sweeper is my dad (who is coincidentally named Wayne).
The two back wheels are glued together to create one wide wheel. The car is elevated about a quarter inch so that it would fit on our track. As you can guess, the car didn't do real well in the speed category.
From Pinewood Derby Times Volume 8, Issue 11
Subscribe to this Free Pinewood Derby E-newsletter
(C)2015, Maximum Velocity, Inc. All rights reserved