Today's cars were submitted by Bob Tachick.
Pirate Sword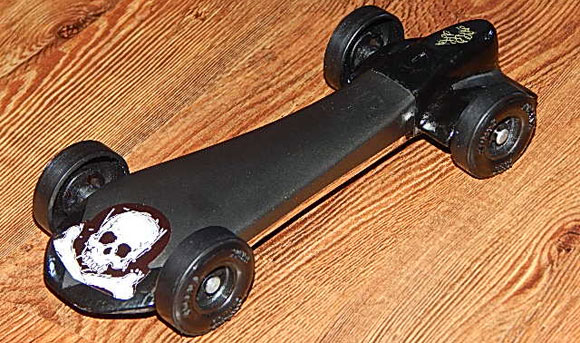 This is my son's second car, and was supposed to look like a sword, although the handle in back ended up getting packed with tungsten cubes.
It has a set screw threaded into the wood on top for adding a few extra BBs or such at the weigh-in, while still keeping the lines clean for air flow.
This car won by less than a hundredth of a second to spare; it also raced at our local Home Depot race and with some minor adjustments and more polishing took first place the second year. It's all about details.
'32 Deuce Coupe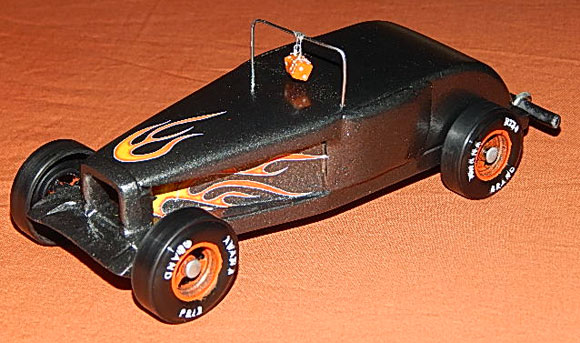 This car required a lot of cutting and hollowing out, but was worth the effort. It was a big hit with the car guys at church, as a lot of cars are left on display for the week end. The body was cut off the frame, the whole inside was cleaned out, the engine compartment was removed, and balsa wood panels in a wedge shape split the air up front
and allowed a flame job on the side of the car. The windshield is simply a paper clip to give the impression; but this car is smooth with clear coat and wax. My son did most of the wood work, as well as the running gear, and paint; this was his 3rd car.
"The Fonz" would have liked this car, it brought home the first place trophy.
Gee Bee Sportster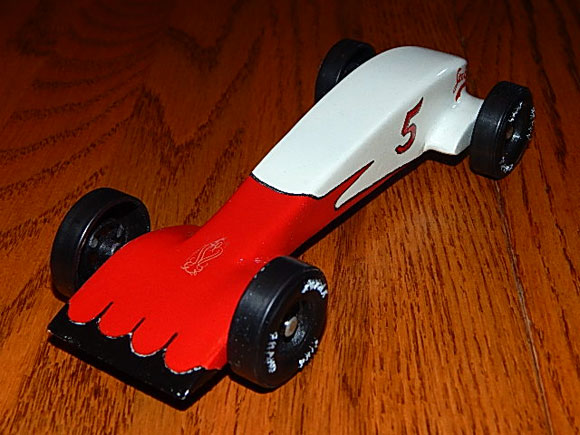 This car is designed as I think the Granville Brothers would have done based on their 1931 and '32 airplanes, the Gee Bee's.
The body is cut down to just enough wood to accommodate a wedge front end and the axles. The car has a hollow center section, a stack of tungsten cylinders in the rear and an airfoil for the rear axles. The tail is designed to not create any turbulence and eliminate drag. I let my wife race this one in the open class, and it easily took first,
turning in the same time as my son's 1st place car that day.
Guitar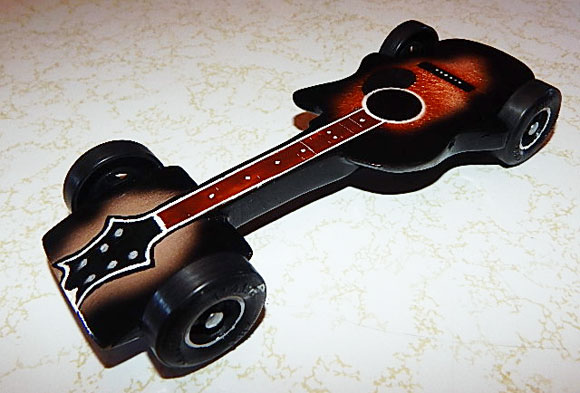 I built this car for my daughter who never had the privilege of club racing; I thought she should race at least once before going to college.
This is designed to look like her guitar, the shape and color which required airbrushing – something new for me.
Design features include an aggressive balance point, a flat top with airflow directed under the rear instead of over, and lots of attention to detail including polishing everything. The body, wheels and axles only weighed an ounce before adding the weight and paint.
Try as she might, she couldn't get it to slow down and was a bit embarrassed beating the guys. She set a new household record, and I believe a new track record.
From Pinewood Derby Times Volume 14, Issue 11
Subscribe to this Free Pinewood Derby E-newsletter
(C)2015, Maximum Velocity, Inc. All rights reserved.