Kevin Harvick Car – Brian & Brianna Fenech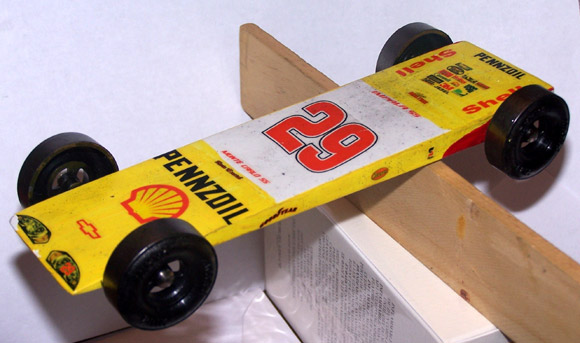 This car was my daughter Brianna's (age 11) first ever submission for her April 2007 Awana Grand Prix race. The paint/decal scheme is similar to NASCAR's Kevin Harvick. Kevin was the winner of the 2007 Daytona 500. Brianna proudly wore her matching Kevin Harvick NASCAR t-shirt for the Awana race. The car features an extended wheelbase and super wedge design. All the weight is located near the rear axles, the is 5.0 ounces. The wheels are race ready graphite coated slicks. The axles were smoothed and grooved to reduce friction and hold additional graphite lube to endure the race. The car raced a total of 8 Class races. It sped to 1st Place – Top Speed in Class, then Top Speed Overall to beat all competition, including parents. The race car also garnered 2nd place in class for design. We're looking forward to start building our 2008 Awana Grand Prix racers.
The Beast – Vaughn Lester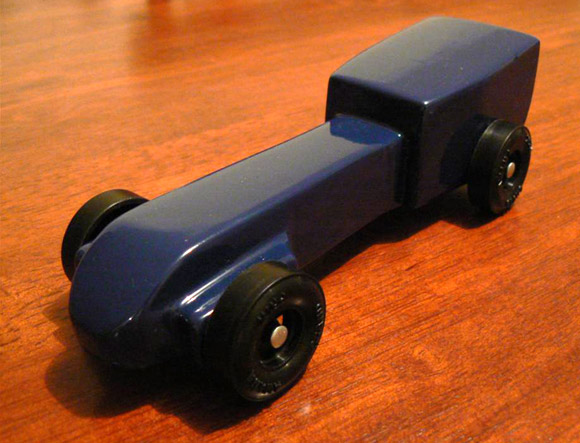 My car received its nickname from an uncle who thought the design would demolish everyone else. This was our first pinewood derby and we only gained interest by watching "Down and Derby". Anyway, after I finished watching the movie I got on the Internet and happened to fall upon your website. I quickly soaked up all the information and designed my car. I then built a prototype and was happy with the result. I made a few changes and this is what I came up with. I then realized that there were still four months till the race and I was already prepared to build the race car and race. However I had to wait two months before I received the kit and then I built my car. It took me a week to finish the sanding and then I started painting. I sprayed four coats of white two to three times a day for the last week before the event, until it had twenty plus coats of paint!!! I didn't have any graphite yet but I needed the wheels on to participate in the test runs. I was amazed how much better it performed than most of the other cars (nobody else had lubricant either I am glad to say). Now to fast forward to race day. Excitement builds as cars start coming and the race hour draws near. I am participating in the leader's and dad's race so I have a few stiff competitors. I placed 3rd overall, and I lost to someone who I had given tips from your site to (my mistake!).
Green Machine – Andrew Lester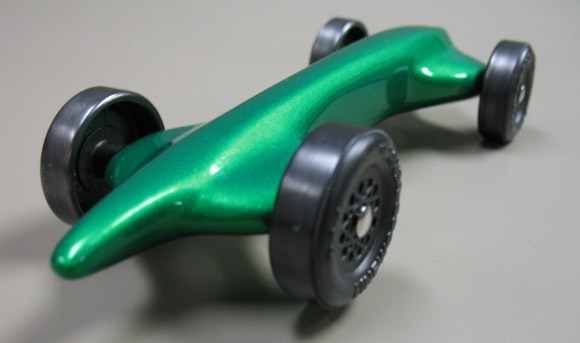 This was my son's 2007 car. He was a Wolf and we used some of your matched wheels, tungsten weights, drilled block, and some tungsten putty. He ended up 1st in Wolf at the Pack level, 2nd in Wolf at District Semi Finals, 1st overall at Semi Finals (don't ask how this works, we can only blame it on less than perfect brackets), and 2nd at the District Finals.
From Pinewood Derby Times Volume 7, Issue 9
Subscribe to this Free Pinewood Derby E-newsletter
(C)2014, Maximum Velocity, Inc. All rights reserved.