Touchdown – Mark Leedom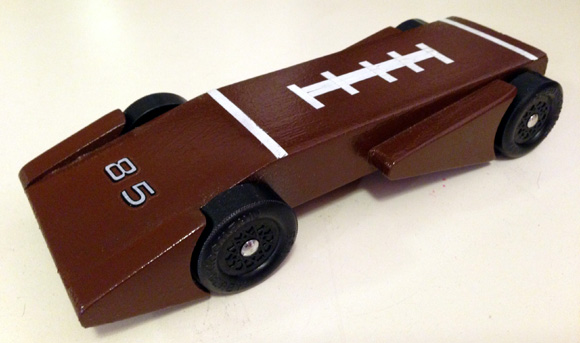 This is my son Derek's 2014 entry for Pack 352 (Raleigh, NC). It is named "Touchdown" and uses your fender kits as well as your tungsten COG weights. This was the speed winner for the Bear Scouts this year, and next we move on to the Impeesa District derby!
Police Cruiser – Mark Leedom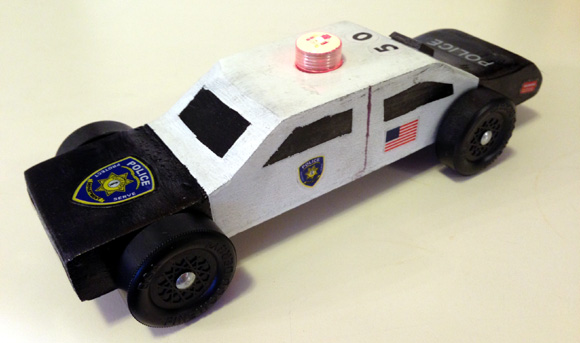 This car was in response to your recent article on light bars. I wanted to share this low-tech solution that we had used last year. We bought these clip-on lights for the kids from a street vendor at our local 4th of July parade for $1 each. They weigh 0.2 ounces with the batteries and flash alternating red/blue. I used a Dremel to cut the clip off, and just a touch of poster putty to hold it in a hole I had drilled so that it was somewhat recessed. It didn't win, but it was definitely a crowd pleaser!

Seriously Blue – Jason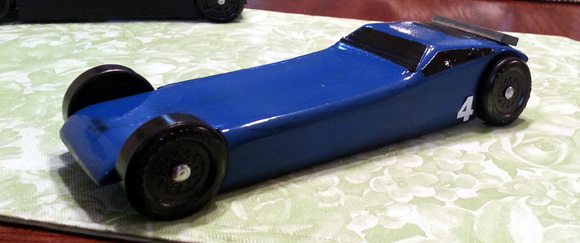 This is our fastest car so far. It was so fast that the parents wanted a second inspection of the car. After passing yet another inspection, the races continued. This car took 3 trophies: fastest in age group – fastest over all – best in show. Thanks to Maximum Velocity and all the speed tips, the little guy and his Dad went home happy!
Vector – Russell Rau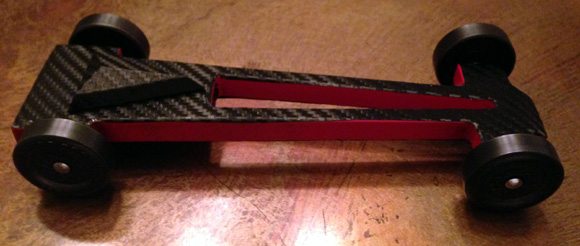 This year's car came out pretty cool with a carbon fiber-like overlay. The car set a track record its first race, then broke that the second race, but then slowed down the rest of the day. It developed a wobble, not sure why. Anyway, it was just quick enough even with the wobble to take first.
From Pinewood Derby Times Volume 13, Issue 13
Subscribe to this Free Pinewood Derby E-newsletter
(C)2014, Maximum Velocity, Inc. All rights reserved.