Blue Angel – Joel & Bradley Keels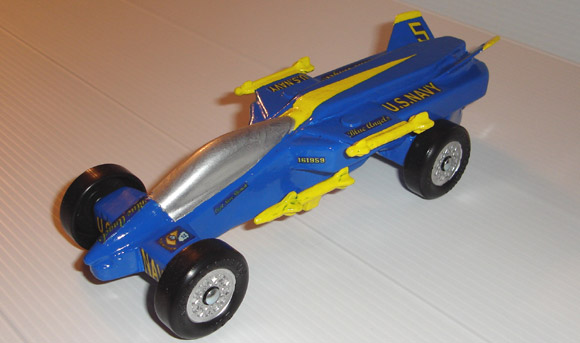 Our Cub Scout Pack (249, Edgewater, Maryland) had our Pinewood Derby today, and it was great. My son Bradley proudly took the 'Best in Show' selection from the Derby judges, and the car actually ran well. He got the idea from another 'Blue Angel' car that we saw in your gallery a while back. Plus, he's seen the real Blue Angels perform several times, and just loves them. When he first said that's the design he wanted to do, I was a bit stumped trying to envision a design. Then, I remembered a pretty beaten-up old Blue Angels jet toy that wasn't getting much attention lately. So, we found wing sections, tail sections, cockpit and nose pieces, and missiles that we could salvage from the toy and use in the car design. He told me what he wanted to use and where he wanted the pieces, and I helped him fasten or glue them. He painted the main blue color, and then I taped off the stripes and missiles so he could do the yellow accents. We were lucky to come across some JPEG shots of the decals (that really had me stumped up to that point), so I printed them up and he decided which ones to use and put them on. Finally, he put on the clear coat to really make it shine (like the real ones!). He also helped with sanding and prepping the axles and wheels, but since he had a 102 degree fever the day before the race, his Mom helped me to put the wheels/axles onto the body. Luckily, he was well on race-day, and all went well. We look forward to next year (and hopefully an easier design choice!).
Number 1 – David & Craig Baum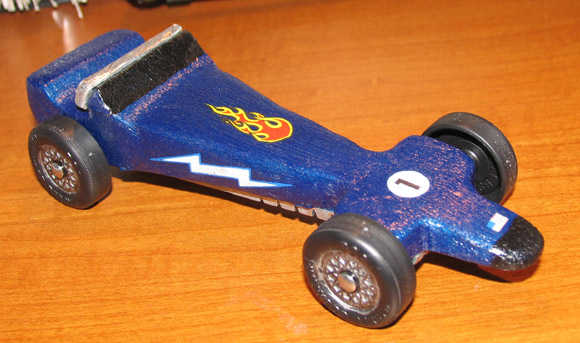 Craig is a Tiger Cub in Pack 135 in Wellesley, Massachusetts. This was our first Pinewood Derby. Craig designed the car, painted, and applied the stickers (I did the cutting and sanding). Craig's car placed 3rd out of nearly 80 cars. We are looking forward to next year!
'32 Coupe – Mike & Mikey Ferraro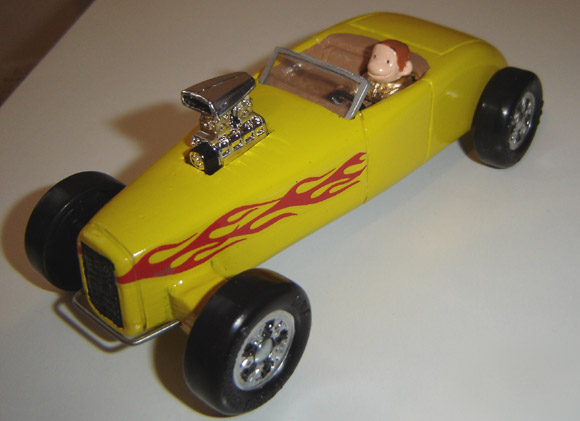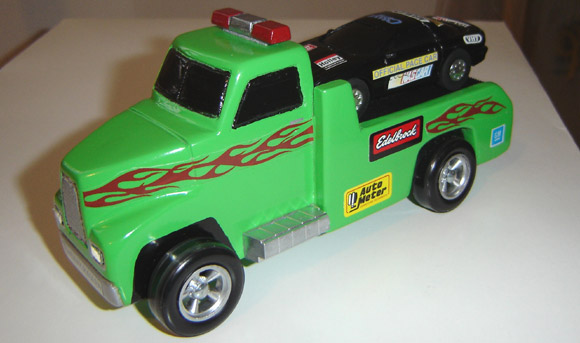 My son Mikey and I are involved with the Cub Scouts in our town, and I am lucky enough to be a den leader. Last year we made a '32 coupe for him with Curious George at the wheel. For the adult race I made a race car carrier for my vehicle. The adults raced for fun. We had a blast; the coupe didn't place but it lasted a while before it got beat. Thanks for the tips and products on your site.
From Pinewood Derby Times Volume 6, Issue 2
Subscribe to this Free Pinewood Derby E-newsletter
(C)2013, Maximum Velocity, Inc. All rights reserved.