Low-Rider – Stephen & Stevie Banks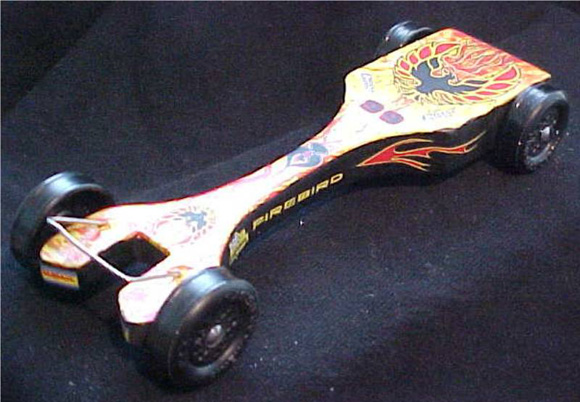 We used your Low Rider design with the Fire Starter Body Skin and the Custom Design decals. As you can see we made a 'quick start' modification To The front of the car by cutting a 1 1/8″ L x 3/4″ W channel and adding a paper clip. The car started rolling before the other cars. Stevie went 10-0 and became the Pack Grand Champion in his first pinewood derby race. Now we're off to the district finals, and hopefully the regionals after that!!
Snake Car – Elisa Davis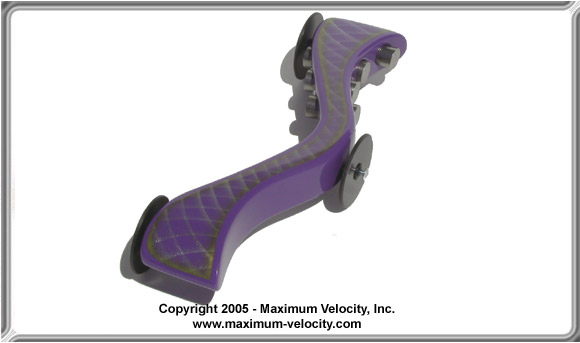 My wife wanted to enter a car in the Outlaw Division this year. So I built this three-wheeled snake. I can't take credit for the idea, as it was inspired by a photo I found on the web (if you know the name of the original designer, please let me know). The car was the fastest in the race, but was unstable. On the last heat it jumped the track, so it ended up in second place. During testing I had to add a 'crutch' (not in the photo) on the back left of the car. The crutch kept the front end from lifting too high when the car went through the transition.
Nelcom – Janel Davis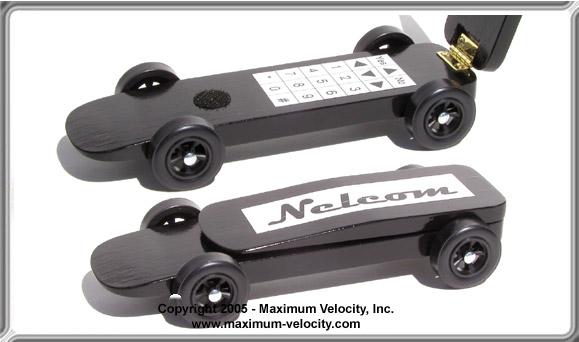 This is our version of a 'car phone'. Based on the Wing design, an extra piece of wood was crafted to fit on top. A small Velcro circle is used to hold down the top during the race. The most difficult part of building the car was recessing the hinge so that it didn't stick out the back, making the car too long. The car took 1st Place in Speed and Design.
From Pinewood Derby Times Volume 5, Issue 5
Subscribe to this Free Pinewood Derby E-newsletter
(C)2012, Maximum Velocity, Inc. All rights reserved.