I have two sons in Cub Scouts and they both absolutely love the pinewood derby. My older son could not think of a design this year so he asked Mom; she came up with the idea of a guitar. I thought, "How can I make this?" I drew out some plans on paper and it started to come together. The more we worked on it the more it took shape and the more excited we got.
Finally it was done, and race day was here. All the adults thought the design was sure to get best of show, however the kids had not voted yet. We held the race and the car held its own but failed to finish in the top three. Then the kids lined up to judge the cars for best of show. I could tell my son's anticipation was growing – so was mine. We had spent a lot of time on the car and were hoping it would pay off. In the end the kids did not vote for it and my son went home with only a participation trophy.
My other son picked an easier design and ended up with a third place trophy and best of show for his grade. Go figure!
The moral of the story is have fun and enjoy the time with your kids; they grow up much too quickly. And next time don't ask Mom for a design
suggestion!
Steve Lee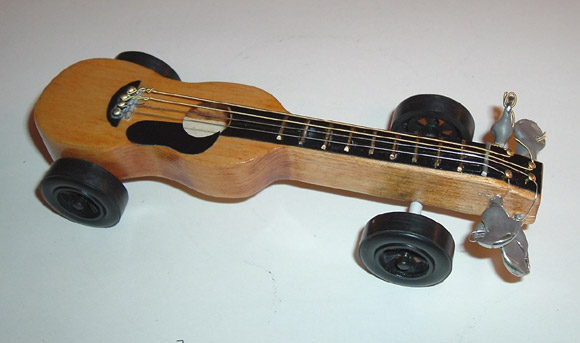 (Editor's Note – There is no accounting for taste. Mom should be commended
for the inspiration for this great looking car!)
From Pinewood Derby Times Volume 4, Issue 14
Subscribe to this Free Pinewood Derby E-newsletter
(C)2012, Maximum Velocity, Inc. All rights reserved.