Some cars that appeal to the feminine side.
Purple Pixie – Gary Olesky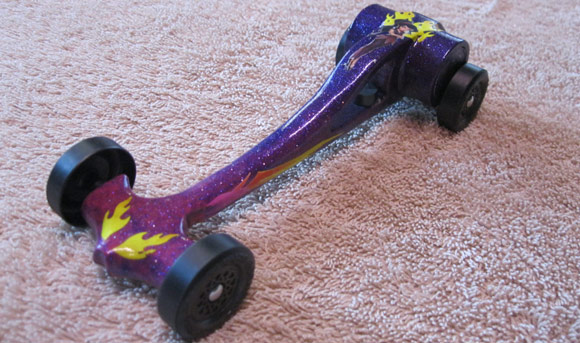 Little 4 year old Ali and adopted grandpa for the day, Gary Olesky, took on her brother Sebastian and all the other boys at a Cubscout pinewood derby Race. The boys were not happy losing to the purple and pink pixie car, which turned in the fastest time of the day.

The Shoe – Jeremy Isaac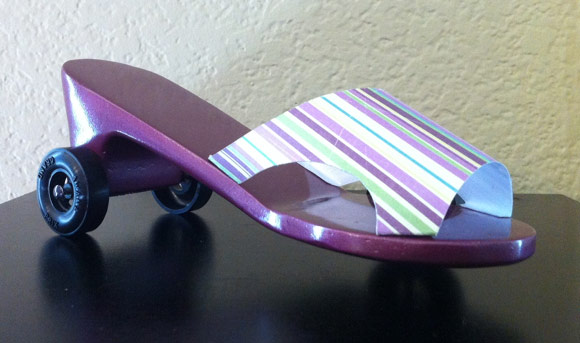 My daughter ran the shoe, which took first in both Speed and Novelty in the Awana Cubbies division. The speed competition wasn't very stiff this year – the car was reasonably fast, but shouldn't have won in my opinion.
Blue Flower – James White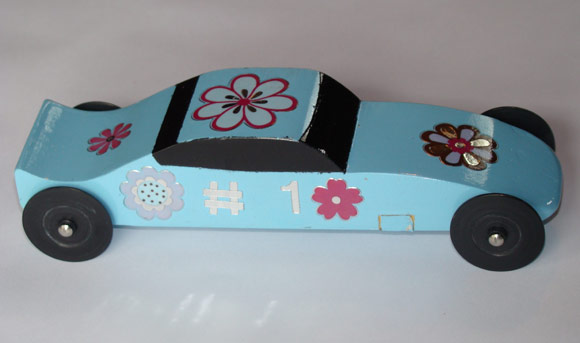 My granddaughter (Olivia) and I built this car for her to race against her brother. Olivia calls her car "Blue Flower".
From Pinewood Derby Times Volume 11, Issue 11
To subscribe to this free e-newsletter, please visit:
www.maximum-velocity.com/subscribe.htm
(C)2011, Maximum Velocity, Inc. All rights reserved.
www.maximum-velocity.com