Pinewood Derby
Products
---

New Products
For the 2017-18 season.

---

Speed to the Finish!
The most complete source for pinewood derby speed tips and techniques on the market today!

---

Kits & Blocks
Pre-cut pinewood derby car kits, blocks, bulk kits, and more.

---

Wheels & Axles
Speed wheels, speed axles, competition components, and more!

---

Pinewood Derby Weight
Tungsten, lead, and steel weight for your pinewood derby car.

---

Specialty Tools
Unique and innovative tools to get the maximum speed from your car!

---

Speed Supplies
Pinewood derby polishing supplies, lubes, and more!

---

Pinewood Car Plans
Detailed car plans, with templates and step-by-step instructions.

---

Decals, Etc.
Decals, Body Skins, pinstriping, and more!

---

Pinewood Accessories
Accessories, finishing supplies, paint stencils, DerbyDome, and more!

---

Race Management
Pinewood derby software, gauges, and more!

---

Inventory Clearance
Get great deals!
Incremental
Tungsten Cylinders - 3 ouncesa
Pinewood Derby Weight
---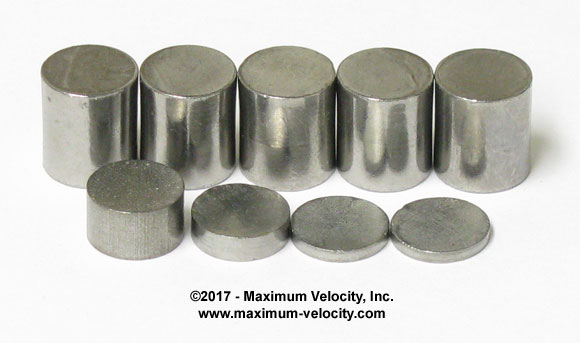 ---
5029
Incremental
Tungsten Cylinders
3 ounces
In Stock
$14.25
---

Product Content

Incremental Tungsten Cylinders contain five 1/2 ounce cylinders, one 1/4 ounce cylinder, one 1/8 ounce cylinder, and two 1/16 ounce cylinders. Using the incremental cylinders, you can acheive any weight between 1/16 and 3 ounces, in 1/16 ounce increments.

Product Specifications

Diameter - 3/8 inch

Thickness
1/2 ounce cylinder - 0.44 inch

1/4 ounce cylinder - 0.22 inch

1/8 ounce cylinder - 0.11 inch

1/16 ounce cylinder - 0.05 inch
What is Tungsten?

Tungsten is a metal with one of the highest densities. Tungsten is 1.7 times more dense than lead, 2.4 times denser than steel, and 2.7 times denser than zinc.



How to Use this Product

Incremental Tungsten Cylinders can be easily used for pinewood derby car weighting by drilling one or more 25/64 inch or larger diameter holes into the block and then inserting the desired number of cylinders and gluing it in place with a hot glue gun or epoxy. The hole can then be plugged or left open for adjustment at the weigh-in. Since Tungsten Cylinders are very hard, do not plan to drill out any extra weight. Instead, use an alternate method to make fine adjustments such as adding/removing tungsten putty, beads, etc.

a3 ounces nominal weight - actual weight ranges from 2.9 to 3.0 ounces.