Pinewood Derby
Products
---

New Products
For the 2017-18 season.

---

Speed to the Finish!
The most complete source for pinewood derby speed tips and techniques on the market today!

---

Kits & Blocks
Pre-cut pinewood derby car kits, blocks, bulk kits, and more.

---

Wheels & Axles
Speed wheels, speed axles, competition components, and more!

---

Pinewood Derby Weight
Tungsten, lead, and steel weight for your pinewood derby car.

---

Specialty Tools
Unique and innovative tools to get the maximum speed from your car!

---

Speed Supplies
Pinewood derby polishing supplies, lubes, and more!

---

Pinewood Car Plans
Detailed car plans, with templates and step-by-step instructions.

---

Decals, Etc.
Decals, Body Skins, pinstriping, and more!

---

Pinewood Accessories
Accessories, finishing supplies, paint stencils, DerbyDome, and more!

---

Race Management
Pinewood derby software, gauges, and more!

---

Inventory Clearance
Get great deals!
Pinewood Derby Car Inspection Gauge
---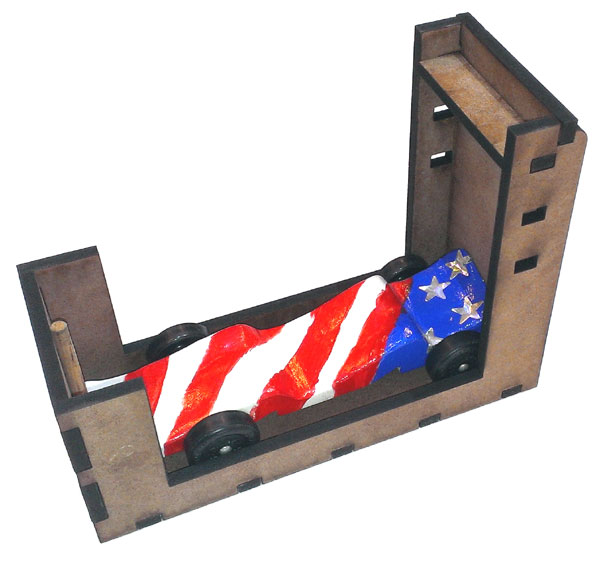 ---
7540
Car Inspection Gauge
InStock
$25.95

From Randy:
"I have personally used this gauge at several race inspections. It not only greatly speeds up the inspection process, but it also applies the race rules without bias. Parents cannot argue if the car doesn't fit in the gauge."
---
Speed up your race inspection and make it consistent!
Click on a photo to enlarge


Car Entering Gauge
Verifies Height, Width and Underbody Clearance


Door Closed
Verifies Length


Verifies Start Pin Criteria

Our Car Inspection gauge will help you improve your race by providing a consistent and quick way to inspect each pinewood derby car. The heavy-duty, laser-cut construction means that your organization can confidently use this gauge for years to come.

Features

The Car Inspection gauge allows you to easily measure the following criteria:


Car Dimensions - If the car fits fully inside the gauge (with the door closed), then the car meets the standard dimension limits of:
- 2-3/4 inches maximum width,
- 7 inches maximum length,
- 1-3/4 inches minimum wheel spacing, and
- 3, 4, or 5 inches maximum height (adjustable). The height checker in the photos is set at 5 inches.

Underbody Clearance - If the bottom of the car clears the guide rail then the car meets the 3/8 inch minimum underbody clearance.

Wheelbase Length - If your organization has restrictions on wheelbase length, you can mark those limits on the base of the gauge.

Start Pin - Verifies that no part of the car extends past the starting pin.

Assembly

The Inspection gauge is shipped unassembled with easy to follow instructions. You will need white or yellow glue to permanently assemble the gauge. Rubber bands are provided to hold the parts in place while the glue dries.

If you desired, the gauge can be left un-glued, using the rubber bands to hold it together. Then the gauge can be disassembled after the race.