Pinewood Derby
Products
---

New Products
For the 2017-18 season.

---

Speed to the Finish!
The most complete source for pinewood derby speed tips and techniques on the market today!

---

Kits & Blocks
Pre-cut pinewood derby car kits, blocks, bulk kits, and more.

---

Wheels & Axles
Speed wheels, speed axles, competition components, and more!

---

Pinewood Derby Weight
Tungsten, lead, and steel weight for your pinewood derby car.

---

Specialty Tools
Unique and innovative tools to get the maximum speed from your car!

---

Speed Supplies
Pinewood derby polishing supplies, lubes, and more!

---

Pinewood Car Plans
Detailed car plans, with templates and step-by-step instructions.

---

Decals, Etc.
Decals, Body Skins, pinstriping, and more!

---

Pinewood Accessories
Accessories, finishing supplies, paint stencils, DerbyDome, and more!

---

Race Management
Pinewood derby software, gauges, and more!

---

Inventory Clearance
Get great deals!
Accel Fenders for Pinewood Derby Cars
---
Click Here to Order Accel Fenders
---

Aero Fenders are 3-D printed, plastic fenders that are pre-shaped, and lightweight (lighter than balsa fenders), making it easy for you to get more speed and a cool look. Just lightly sand, glue them on with epoxy, and paint (or paint separately for a two-tone look).

The Accel Fenders are hollow with an access hole. So if desired, tungsten putty can be placed into the rear fenders to get more weight on a lightweight car.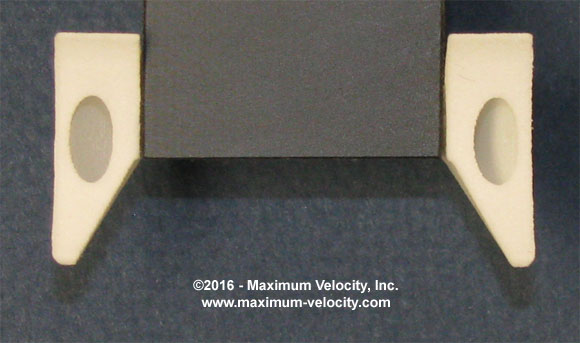 Back Profile of Accel Fenders Showing Access Holes


Fender Weight

Accel Fenders are lighter than pine or balsa fenders:

Accel Fender Pair: Front-1.1g, Rear-1.3g

Pine Fender Pair1: Front-3.1g, Rear-3.8g

Balsa Fender Pair1: Front-1.3g, Rear-2.1g

1Estimated weight assuming typical shaping.
---
Aero Fender Instructions
To use the Accel Fenders:

Lightly sand the fenders.

If a two tone look is desired, paint the fenders separately from the car.

Temporarily install a wheel/axle, position a fender to allow clearance for the wheel, then attach the fender with epoxy. Allow the epoxy to cure, then repeat for the other three fenders.

If the fenders are not pre-painted, paint the car.