Pinewood Derby
Products
---

New Products
For the 2017-18 season.

---

Speed to the Finish!
The most complete source for pinewood derby speed tips and techniques on the market today!

---

Kits & Blocks
Pre-cut pinewood derby car kits, blocks, bulk kits, and more.

---

Wheels & Axles
Speed wheels, speed axles, competition components, and more!

---

Pinewood Derby Weight
Tungsten, lead, and steel weight for your pinewood derby car.

---

Specialty Tools
Unique and innovative tools to get the maximum speed from your car!

---

Speed Supplies
Pinewood derby polishing supplies, lubes, and more!

---

Pinewood Car Plans
Detailed car plans, with templates and step-by-step instructions.

---

Decals, Etc.
Decals, Body Skins, pinstriping, and more!

---

Pinewood Accessories
Accessories, finishing supplies, paint stencils, DerbyDome, and more!

---

Race Management
Pinewood derby software, gauges, and more!

---

Inventory Clearance
Get great deals!
Pinewood Derby Center of Gravity Stand
---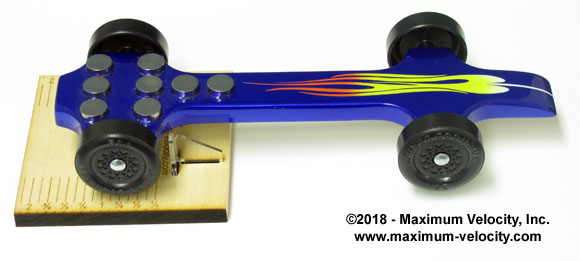 ---
5196
COG Stand
In Stock
$12.95

From Randy:
"If you have ever tried the tedious task of using a ruler to find the COG of a car, then you will greatly appreciate the simplicity and ease of use of the COG Stand."
---



Car Not Included


Forget the pencil or ruler; use our Center Of Gravity (COG) Stand to accurately measure and adjust the balance point of your pinewood derby car. The built in ruler simplifies the process of finding the exact balance point of your car.

Usage

With the wheels and axles on the car, balance the car with the rear wheels positioned over the built in ruler. Once the car is balanced on the balance beam read the measurement directly below the rear axles. This measurement is the COG of the car.

COG Recommendation

Our recommendation for the COG is as follows:

Wood Track, no alignment consideration: 1-1/4 inches

Wood Track, Rail-Riding: 1 inch

Aluminum track, no alignment consideration: 7/8 inch

Aluminum track, Rail-Riding: 3/4 inch - Better performance may be attained with a COG closer to the rear axle (5/8 inch or so). However, this reduces front wheel tracking which can result in poor performance near the finish line. So, generally a more aggressive balance point is used when a test track is available to make sure the car will perform properly.
To achieve the desired COG, ballast weight must be added behind, and in front of the rear axle. A good starting point for weight placement is 1/3 of the added weight behind the rear axle, and 2/3 of the added weight in front of the rear axle. If needed, weight can also be placed above the rear axle or across the rear axle (using an underbody weight plate).

Assembly Required

The COG stand comes disassembled. Use a small amount of glue (super glue or epoxy) to attach the balance beam and support members.