Pinewood Derby
Products
---

New Products
For the 2017-18 season.

---

Speed to the Finish!
The most complete source for pinewood derby speed tips and techniques on the market today!

---

Kits & Blocks
Pre-cut pinewood derby car kits, blocks, bulk kits, and more.

---

Wheels & Axles
Speed wheels, speed axles, competition components, and more!

---

Pinewood Derby Weight
Tungsten, lead, and steel weight for your pinewood derby car.

---

Specialty Tools
Unique and innovative tools to get the maximum speed from your car!

---

Speed Supplies
Pinewood derby polishing supplies, lubes, and more!

---

Pinewood Car Plans
Detailed car plans, with templates and step-by-step instructions.

---

Decals, Etc.
Decals, Body Skins, pinstriping, and more!

---

Pinewood Accessories
Accessories, finishing supplies, paint stencils, DerbyDome, and more!

---

Race Management
Pinewood derby software, gauges, and more!

---

Inventory Clearance
Get great deals!
Pinewood Derby Block/Kit Option 9004
Block Sliced Per Customer
---
Although the drawing below shows a Standard Wheelbase Slotted block, option 9004 applies to all blocks (parts 5600, 5601, 5602, 5603, 5611, 5612, and 5613).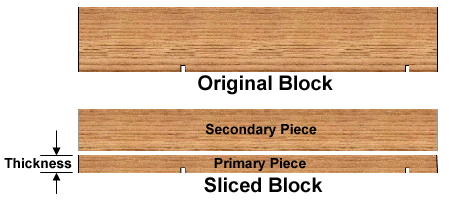 ---
90045
Option
Block Sliced Per Customer
In Stock
Plus $2.00
Before ordering this option, please order the block which you wish to have sliced.
---
Default Block or Kit
By default, blocks and kits are not shaped in any way.

Option 9004
Option 9004 results in a block sliced to the customer specified thickness. The thickness is specified in the comment field of the order. If a thickness is not specificed, then the block will be sliced to:

5600, 5611, 5612, 5613 - 3/8 inch thick

5601, 5602, 5603 - 5/8 inch thick
Both pieces of wood are shipped. The top of the primary piece is sanded smooth. The saw cut is not sanded on the secondary piece.

Does Not Apply to Pre-Cut Car Kits
This option cannot be applied to pre-cut car kits, as they are already shaped.