Pinewood Derby
Products
---

New Products
For the 2017-18 season.

---

Speed to the Finish!
The most complete source for pinewood derby speed tips and techniques on the market today!

---

Kits & Blocks
Pre-cut pinewood derby car kits, blocks, bulk kits, and more.

---

Wheels & Axles
Speed wheels, speed axles, competition components, and more!

---

Pinewood Derby Weight
Tungsten, lead, and steel weight for your pinewood derby car.

---

Specialty Tools
Unique and innovative tools to get the maximum speed from your car!

---

Speed Supplies
Pinewood derby polishing supplies, lubes, and more!

---

Pinewood Car Plans
Detailed car plans, with templates and step-by-step instructions.

---

Decals, Etc.
Decals, Body Skins, pinstriping, and more!

---

Pinewood Accessories
Accessories, finishing supplies, paint stencils, DerbyDome, and more!

---

Race Management
Pinewood derby software, gauges, and more!

---

Inventory Clearance
Get great deals!
Jaguar
Pinewood Derby Car Kit Bundle
---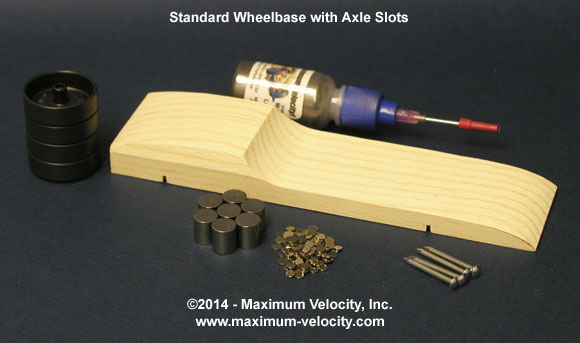 ---
8240
Jaguar Bundle
Standard Axle Slots
In Stock
$45.95
With Tungsten Weight


From Randy:
"The car bodies in the kit bundles have precision cut axle slots and are fully BSA compliant."
---



A Complete Car Kit Solution!


The Jaguar Kit Bundle includes all of the key items you need to build a competitive, BSA-compliant, pinewood derby car. The components include:

5624 - Jaguar Kit with precision-cut axle slots that match BSA specifications in placement, depth, and width (tungsten weight included)

4090 - Official BSA Matched Speed Wheels

4094 - BSA Speed Axles

5104 - Max-V-Lube Graphite
Please note:

To complete the car kit, you will need some sandpaper, wood filler, and glue (epoxy or hot glue). These items can be found here Here.

Decals are not included in the bundles. Decals can be found Here.

For spray painting we recommend lacquer paints - avoid enamel paints. For brush painting (easiest for kids), we recommend acrylic hobby paints).