Pinewood Derby
Products
---

New Products
For the 2017-18 season.

---

Speed to the Finish!
The most complete source for pinewood derby speed tips and techniques on the market today!

---

Kits & Blocks
Pre-cut pinewood derby car kits, blocks, bulk kits, and more.

---

Wheels & Axles
Speed wheels, speed axles, competition components, and more!

---

Pinewood Derby Weight
Tungsten, lead, and steel weight for your pinewood derby car.

---

Specialty Tools
Unique and innovative tools to get the maximum speed from your car!

---

Speed Supplies
Pinewood derby polishing supplies, lubes, and more!

---

Pinewood Car Plans
Detailed car plans, with templates and step-by-step instructions.

---

Decals, Etc.
Decals, Body Skins, pinstriping, and more!

---

Pinewood Accessories
Accessories, finishing supplies, paint stencils, DerbyDome, and more!

---

Race Management
Pinewood derby software, gauges, and more!

---

Inventory Clearance
Get great deals!
Pine Block
Extended Axle Holes & Weight Holes
for Pinewood Derby Cars
---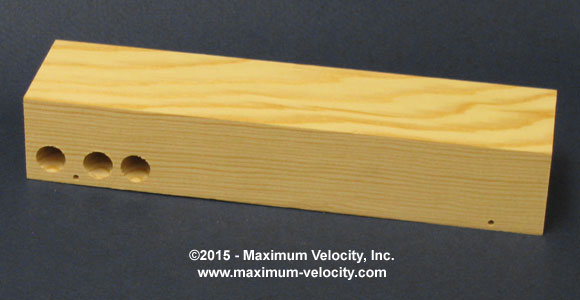 ---
5603
Pine Block
Extended Axle Holes
Weight Holes
In Stock
$6.50


From Randy:
"We use a precision drill press to ensure that axle holes are drilled as accurately as possible. This minimizes alignment issues, simplifying the building of a fast car."

Important - Read Before Ordering


Wheels and axles are not included with the blocks. Wheels and axles for Cub Scout/BSA, PineCar, Awana, and Outlaw races can be found Here

If you need the block to have four wheels on the ground, or plan to use Awana axles, then in addition to the block you will need to add a standard option to the shopping cart.
---

A high quality pine block with axles holes and weight holes for your shaping pleasure! The block is equipped with precision-drilled axle holes at an extended position.
Benefits
You will get top performance from these blocks!

Precision Axle Holes - The axle holes are precision drilled to improve alignment and speed.

Raised Axle Hole - The front-left axle hole is drilled slightly higher so that the car runs on three-wheels. Tests consistently prove that three-wheel cars are faster than four-wheel cars.

Maximum Wheelbase - The axle holes are drilled to give the maximum length wheelbase. This increases stability, improves alignment, and enables the maximum benefit of weight placement.
Specifications
The block measures:

Height: 1-1/4 inches
Width: 1-3/4 inches
Length: 7 inches
Hole Diameter: 13/32 inch
Hole Depth: 1-1/2 inches
The block is equipped with precision-drilled axle holes. The holes are located 11/16" from the end of the block and are drilled with a #44 bit (fits BSA axles). One front axle hole is slightly raised so that the car will ride on three wheels (best performance).
Options
The following standard options are available:

Option 9000: Drilled axle holes, 4 wheels on the ground - add $1.00.

Option 9001: Extended wheel base block with standard slots - add $1.00.

Option 9002: Drilled axle holes for Awana axles (3/32" bit) - add $1.00.

Option 9003: Wedge Cut Block - add $2.00.

Option 9004: Block Sliced Per Customer - add $2.00
Options Can Be Found Here