Pinewood Derby
Products
---

New Products
For the 2017-18 season.

---

Speed to the Finish!
The most complete source for pinewood derby speed tips and techniques on the market today!

---

Kits & Blocks
Pre-cut pinewood derby car kits, blocks, bulk kits, and more.

---

Wheels & Axles
Speed wheels, speed axles, competition components, and more!

---

Pinewood Derby Weight
Tungsten, lead, and steel weight for your pinewood derby car.

---

Specialty Tools
Unique and innovative tools to get the maximum speed from your car!

---

Speed Supplies
Pinewood derby polishing supplies, lubes, and more!

---

Pinewood Car Plans
Detailed car plans, with templates and step-by-step instructions.

---

Decals, Etc.
Decals, Body Skins, pinstriping, and more!

---

Pinewood Accessories
Accessories, finishing supplies, paint stencils, DerbyDome, and more!

---

Race Management
Pinewood derby software, gauges, and more!

---

Inventory Clearance
Get great deals!
Pine Block
Standard Slots & Weight Holes
for Pinewood Derby Cars
---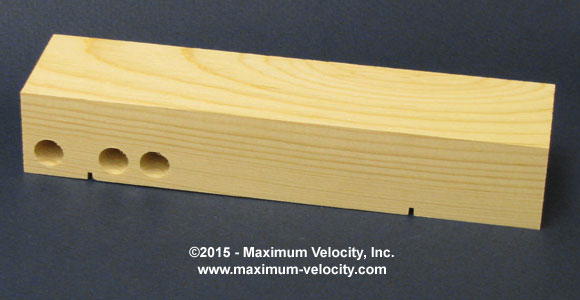 ---
5601
Pine Block
Standard Axle Slots
Weight Holes
In Stock
$5.00


From Randy:
"Part 5601 has precision cut axle slots and is fully BSA compliant."

Important - Read Before Ordering


Wheels and axles are not included with the blocks. Wheels and axles for Cub Scout/BSA, PineCar, Awana, and Outlaw races can be found Here
---

A high quality pine block with weight holes for your shaping pleasure. The slots are accurately cut to simplify alignment.
Specifications
The block measures:

Height: 1-1/4 inches
Width: 1-3/4 inches
Length: 7 inches
Hole Diameter: 13/32 inch
Hole Depth: 1-1/2 inches
The block is equipped with precision-cut axle slots matching the BSA specifications in placement, depth, and width.
Options
The following standard options are available:

Option 9003: Wedge Cut Block - add $2.00

Option 9004: Block Sliced Per Customer - add $2.00
Options Can Be Found Here