Pinewood Derby
Products
---

New Products
For the 2017-18 season.

---

Speed to the Finish!
The most complete source for pinewood derby speed tips and techniques on the market today!

---

Kits & Blocks
Pre-cut pinewood derby car kits, blocks, bulk kits, and more.

---

Wheels & Axles
Speed wheels, speed axles, competition components, and more!

---

Pinewood Derby Weight
Tungsten, lead, and steel weight for your pinewood derby car.

---

Specialty Tools
Unique and innovative tools to get the maximum speed from your car!

---

Speed Supplies
Pinewood derby polishing supplies, lubes, and more!

---

Pinewood Car Plans
Detailed car plans, with templates and step-by-step instructions.

---

Decals, Etc.
Decals, Body Skins, pinstriping, and more!

---

Pinewood Accessories
Accessories, finishing supplies, paint stencils, DerbyDome, and more!

---

Race Management
Pinewood derby software, gauges, and more!

---

Inventory Clearance
Get great deals!
Pre-shaped MV Car Kit - Bulk Pack - Quantity 12
---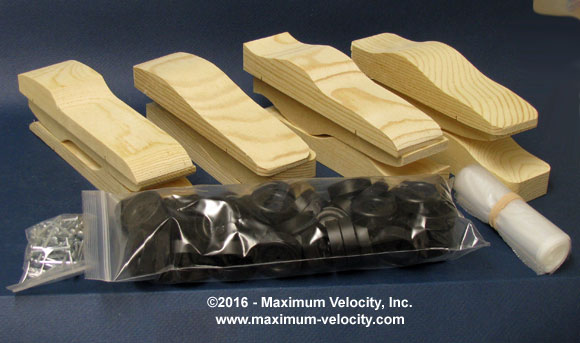 With MV Precision Wheels and Speed Axles!
---
5468
Pre-Shaped
MV Car Kit
Quantity 12
In Stock
$69.95
---

Are you looking for quality pre-cut pinewood derby kits at an attractive price? Are you dissatisfied with the quality of the kits your organization uses? Then consider the benefits of the Maximum Velocity Basic Car Kit:

Benefits

Quality Block - Unlike the pre-cut car bodies provided by some organizations, our blocks are soft, kiln-dried, northwestern pine blocks, cut precisely to 7 inches long, 1-3/4 inches wide. These dimensions, as well as the axle slot placement (4-3/8 inches between slots), accurately duplicate the dimensions of the BSA block.

Four Pre-Cut Shapes - Each package of one dozen kits includes three each of four different shapes. The car bodies are sanded smooth (no saw cuts), and are ready for finish sanding and painting.

Simple Axle Preparation - Don't worry about filing off flaws, or losing hub caps. Our axles have no burrs or crimp marks, and install without hub caps. You can use them as is, or lightly polish them with a metal polish. We supply five, so you have a spare.

Quality Wheels - Forget cheap, out of round wheels. We supply precision-molded wheels that are custom made for Maximum Velocity. We guarantee that you will not be disappointed with the quality of these wheels.
In addition to the car bodies, wheels, and axles, 12 instruction sheets and 12 plastic bags are included. Simply package the kits and distribute.

Please note that these pre-shaped car bodies do not include underbody pockets for weight. We recommend our Bulk Flex Weights for adding weight to the cars.

Applicability

Our kit can be used in any race that does not require a specific kit type. This includes races sponsored by Awana, YMCA, and other children's organizations, as well as corporate, neighborhood, or community races.