Pinewood Derby
Products
---

New Products
For the 2017-18 season.

---

Speed to the Finish!
The most complete source for pinewood derby speed tips and techniques on the market today!

---

Kits & Blocks
Pre-cut pinewood derby car kits, blocks, bulk kits, and more.

---

Wheels & Axles
Speed wheels, speed axles, competition components, and more!

---

Pinewood Derby Weight
Tungsten, lead, and steel weight for your pinewood derby car.

---

Specialty Tools
Unique and innovative tools to get the maximum speed from your car!

---

Speed Supplies
Pinewood derby polishing supplies, lubes, and more!

---

Pinewood Car Plans
Detailed car plans, with templates and step-by-step instructions.

---

Decals, Etc.
Decals, Body Skins, pinstriping, and more!

---

Pinewood Accessories
Accessories, finishing supplies, paint stencils, DerbyDome, and more!

---

Race Management
Pinewood derby software, gauges, and more!

---

Inventory Clearance
Get great deals!
Pinewood Derby
2 inch Chrome Steel
Leveling Ball
---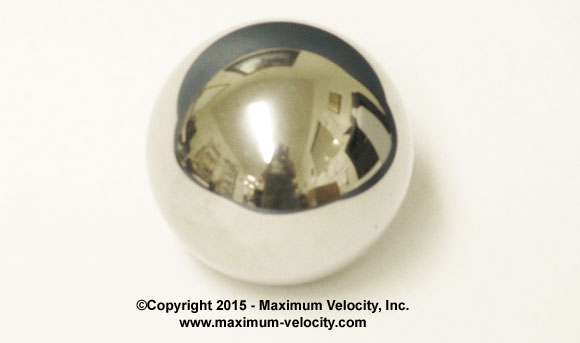 ---
New
5194
2 inch
Steel Leveling Ball
In Stock
$19.95

From Randy:
"This 2 inch diameter chrome steel ball is perfectly round and will help you easily level your alignment board. I have used one for many years, and decided to offer them to the pinewood derby enthusiast."
---

To accurately align a pinewood derby car, you must have an alignment board that is perfectly level left to right. A bubble level will get you close, but a leveling ball is required to attain a perfectly level board.

This leveling ball is 2 inches in diameter and is made of chrome steel. The diameter measurement is accurate to 0.000025 inch.


---
Usage

Board Not Level


Board Level

Caution: The Leveling Ball is not a toy.
If dropped on a toe or thrown, serious damage can occur.

Your leveling board should have three to four inches of slope over eight feet, and should have a straight line down the length of the board. My board is a 14 inch by 8 foot piece of 3/4 inch MDF.

Place the ball at the upper end of the board on the line and release it. The path of the ball with show the direction and amount that the board is out of level.

Adjust the board until the ball follows the straight line.

It is easy to impart an undesirable left or right movement on the ball when it is released. Try holding the ball with your thumb on top of the ball. Then lift your thumb straight up to release the ball.