Pinewood Derby
Products
---

New Products
For the 2017-18 season.

---

Speed to the Finish!
The most complete source for pinewood derby speed tips and techniques on the market today!

---

Kits & Blocks
Pre-cut pinewood derby car kits, blocks, bulk kits, and more.

---

Wheels & Axles
Speed wheels, speed axles, competition components, and more!

---

Pinewood Derby Weight
Tungsten, lead, and steel weight for your pinewood derby car.

---

Specialty Tools
Unique and innovative tools to get the maximum speed from your car!

---

Speed Supplies
Pinewood derby polishing supplies, lubes, and more!

---

Pinewood Car Plans
Detailed car plans, with templates and step-by-step instructions.

---

Decals, Etc.
Decals, Body Skins, pinstriping, and more!

---

Pinewood Accessories
Accessories, finishing supplies, paint stencils, DerbyDome, and more!

---

Race Management
Pinewood derby software, gauges, and more!

---

Inventory Clearance
Get great deals!
Pro Stainless Steel Axles
for Pinewood Derby Cars
---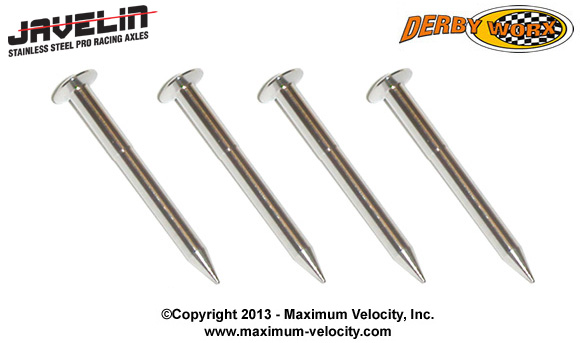 ---
4051
Pro Stainless Steel Axles (4)
For BSA, PineCar, and other wheels
In Stock
$17.95
---

Have a need for pinewood derby performance? Try our Pro Stainless Steel Axles! These axles are precision, CNC-machined for top performance. They are equipped with a two-step, straight, round, and smooth shaft, and a slightly tapered head to reduce wheel-to-axle contact.

The two step shaft provides a good fit with BSA, PineCar, Awana, and MV wheels, while simplifying installation into the block. In addition no preparation is required1 as there are NO BURRS OR CRIMP MARKS, and the axles have a smooth hard finish.

Benefits

Burrs and crimp marks are not present, eliminating tedious work.

The axle head is slightly beveled to minimize contact with the outside wheel hub, and accurately replicates the head of a BSA nail.

The axle shaft is formed to a high tolerance, ensuring top performance.

The two-step axle shaft includes an oversized section to minimize wheel wobble, and a standard diameter section for easy block mounting.

The superior stainless steel provides a smooth hard surface. No preparation is required.1
Usage

Pro Stainless Steel Axles substitute for official BSA, PineCar, and other nail type axles.2 However, while these axles closely resemble BSA axles, they are not the official nail, and are not exact replicas.

Technical Information

Shaft Diameter: .088 inch ± 0.0005 and .093 inch ± 0.0005 (BSA: 0.088 ± 0.002)


Head Diameter: .208 inch ± 0.0005 (BSA: 0.208 ± 0.004)


Shaft Length: 1 inch (BSA: Same)


Material: Stainless Steel (BSA: Zinc-coated steel)
---
1These axles will perform well with no preparation. However, if desired, you can use 5107-Diamond Polish to improve the shine.

2The Pro Stainless Steel Axles are not intended for use with our Outlaw Wheels.